Download these free, editable sports Valentine cards for your children to pass out at school or to their friends at home.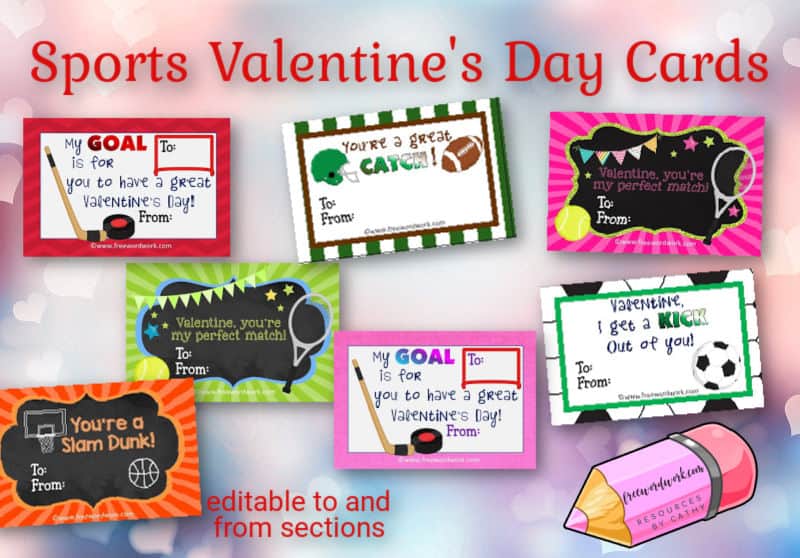 This is another free resource for teachers and families from www.freewordwork.com.
These free, editable sports Valentine cards are an easy addition to your Valentine's Day plans.
If you forgot to purchase cards for your child during your last trip to the store, these will be perfect! You can print them at home and your child will be all set for their class party.
This set of cards has a sports theme.
You will find the following sports themes:
Tennis Valentine's Day Cards (one set in pink and one set in green)
Hockey Valentine's Day Cards (one set in red and one set in pink)
Soccer Valentine's Day Cards
Football Valentine's Day Cards
Basketball Valentine's Day Cards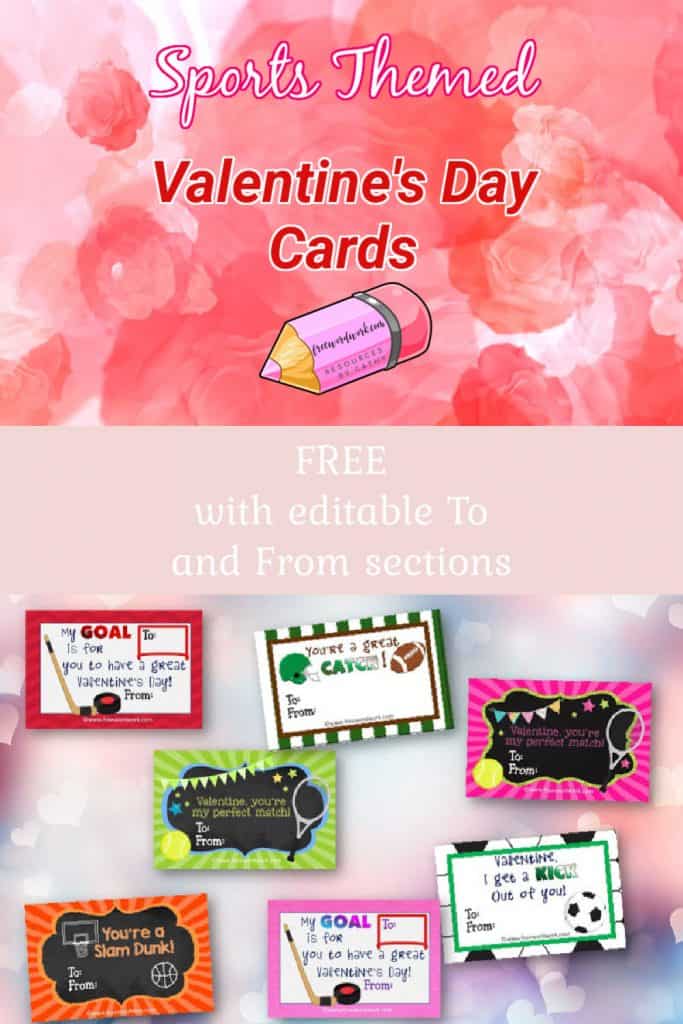 Using these sport Valentine's day cards
I am providing this file in two different formats.
You can download the PDF and print right away. Your child can then write in the recipient names and their name. For the cards that have a chalkboard background, you can use a glittery or white gel pen or a silver or gold Sharpie marker.
The other file is a PowerPoint file.
Your child will be able to edit these before printing. You will need to have PowerPoint on your computer to be able to edit these.
The font you will need for the writing to display as shown is Janda Closer to Free. It is a free font you can download here: KG Font.
Your child can insert a cursor after the to and from on the cards. They can then type a name.
You can then print your cards – I like to use heavy white cardstock but any paper will work.
You can download these free files here
Looking for other fun resources to use at home? Try these freebies I have created:
Thank you for visiting freewordwork.com! All of the resources provided are free for classroom and home use. Resources may not be sold or modified and sold. Please send me a message if you have any questions.