Add these free homophone worksheets to your collection of English grammar worksheets.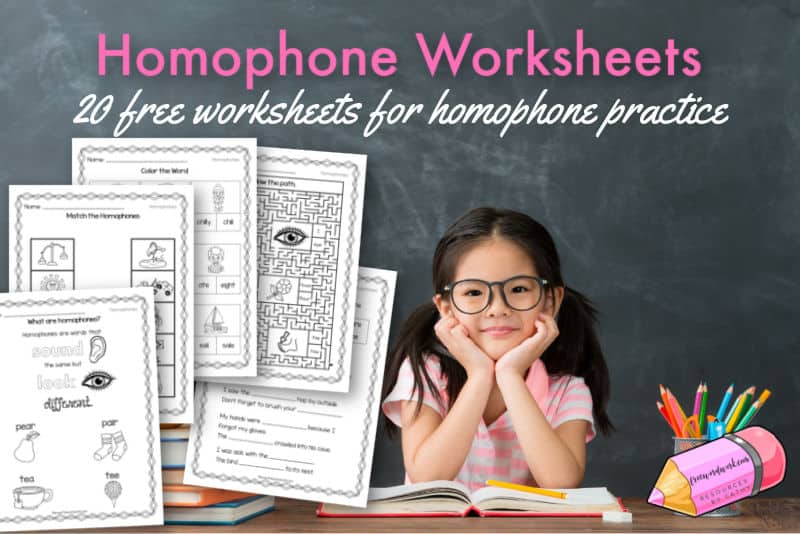 This is another free resource for teachers and families from www.freewordwork.com.
Download this PDF of 20 free homophone worksheets to help your students work on understanding and practicing homophones.
Use these worksheets after introducing your children to the concept of homophones.
These worksheets will fit best into your first grade or second grade classroom.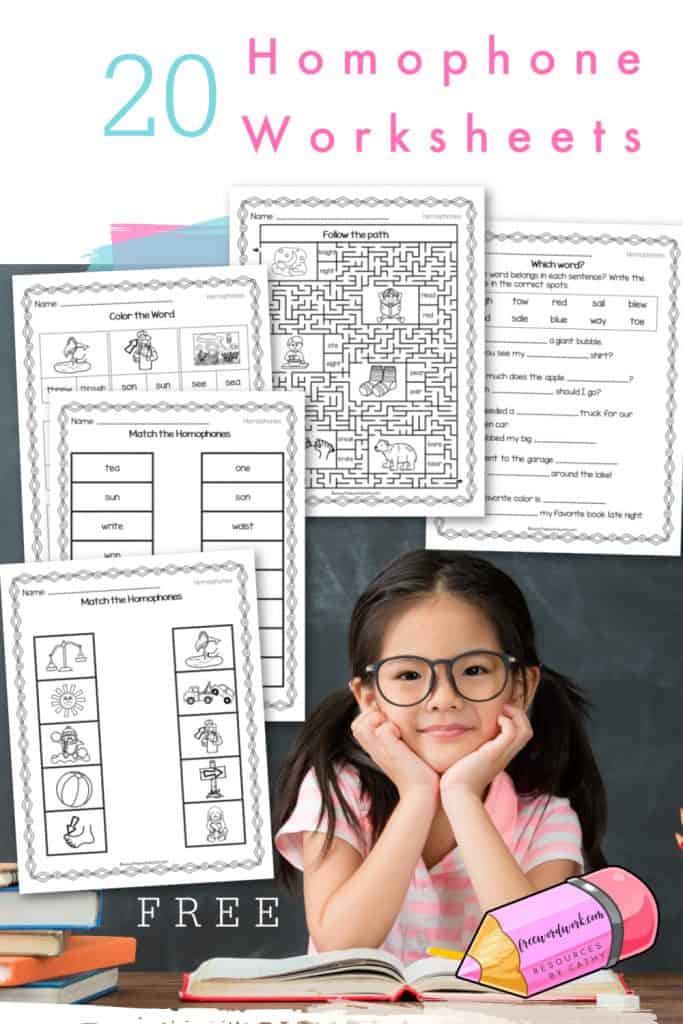 What are homophones?
Homophones are words that are spelled differently but sound the same.
Each spelling has a different meaning.
Start with this list to find a few examples of homophones:
| | |
| --- | --- |
| ate | eight |
| right | write |
| meat | meet |
| weigh | way |
| tow | toe |
| tea | tee |
| sun | son |
| pair | pare |
| pale | pail |
| one | won |
These Homophone Worksheets
This free PDF contains twenty pages for your students to use when practicing homophones.
These pages are not designed for teaching but instead will help with practice and review.
You will find the following pages included:
What are homophones? This page will give students a reminder to add to their writing folder. It includes a definition plus two examples with pictures.
Match the Homophones Students will draw lines to match the homophone. You will find versions where students match the homophone pictures and others where they will match the words.
Circle the Word Students will look a the picture and circle the correct spelling of the word.
Show the Homophones Children will find the homophone pairs and illustrate each.
Color the Homophones Students will color each pair a color. For example, children might color toe and tow red. They could then color way and weigh yellow.
Follow the Path Children will complete the maze by identifying the correct word for each picture.
Which Word? Students will read the sentences and choose the correct word to fill each spot.
You can download this free PDF here:
Looking for other resources to help your child practice grammar skills? Try these:
Thank you to Hidesy's Clip Art and Zip-a-Dee-Doo-Dah Designs for the clip art used in creating these pages.
Thank you for visiting freewordwork.com! All of the resources provided are free for classroom and home use. Resources may not be sold or modified and sold. Please send me a message if you have any questions.