This set of winter cut-up sentences will help your children practice simple sentences with a winter theme.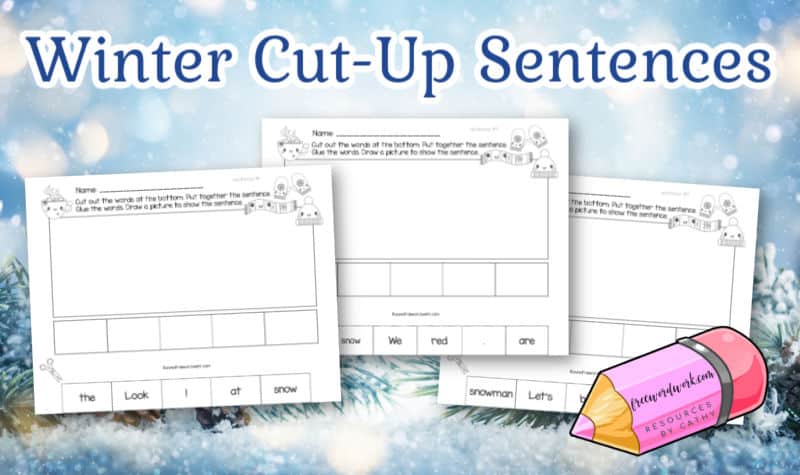 This is another free resource for teachers and families from www.freewordwork.com.
Download these free winter cut-up sentences for a fun and educational winter activity.
I am sure your students will love when used to create a literacy center. If you are a parent, I'm sure your children at home will enjoy this activity as well.
These will help you create a meaningful but easy to assemble work station.
My hope is that this set offers an alternative to centers requiring students to share pieces. As long as students are able to use their own scissors and glue, this can be a contactless option for the classroom.
This collection contains an assortment of eight different pages. The sentences focus on winter themes like snow and winter activities like sledding.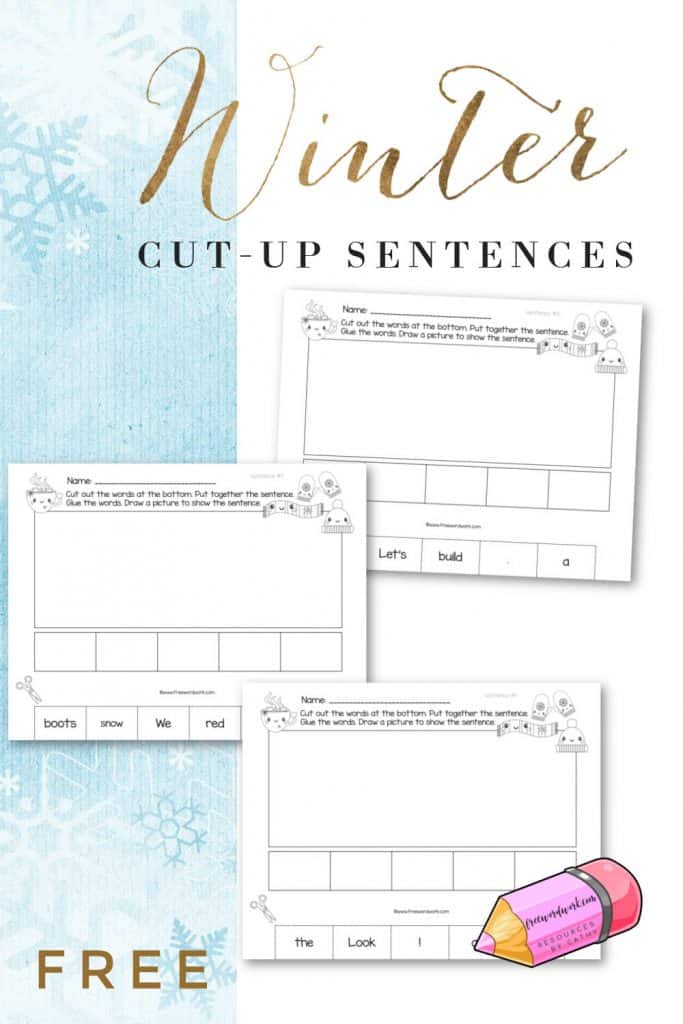 Why should I try these winter cut-up sentences?
These worksheets seem simple but the best part about these sentences is that they are engaging.
Children tend to love this format and it's a great go to when you need a quick activity that is meaningful.
They are great because they give the opportunity for so many skills to be practiced.
These printables allow children to practice fine motor skills by giving them the change for cutting, gluing and drawing.
Students also work on reading basic words.
Finally, they will get practice with comprehension. This occurs when students are arranging the words to make meaning and then illustrating the sentence.
How to use these winter cut-up sentences
Have children choose their favorite page to complete.
Students will begin by cutting out the words and punctuation mark at the bottom of the page.
Next, they will work on unscrambling the words in order to make a meaningful sentence.
Once children have created the sentence, they can glue the words onto the worksheet in order.
Finally, have children illustrate the sentence to show they understand the words.
You can download this free set of winter printables here:
Looking for other free winter themed resources? Try these:
Thank you for visiting freewordwork.com! All of the resources provided are free for classroom and home use. Resources may not be sold or modified and sold. Please send me a message if you have any questions.