Download this free set of winter handwriting practice worksheets to help your children work on handwriting in a fun manner.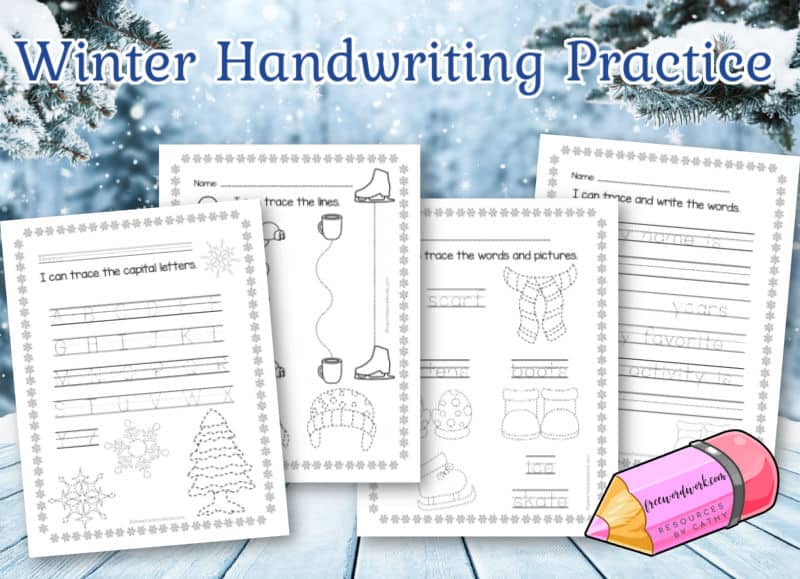 This is another free resource for teachers and families from www.freewordwork.com.
You can use this free winter handwriting practice worksheets to offer your students fine motor practice.
These winter themed pages includes snowflakes and snowmen. You will also find winter gear such as mittens, boots, ice skates and coats.
When children spend too much time on electronics – both for fun and while completing schoolwork, they do not get the same fine motor practice once received during traditional schoolwork.
While we don't want to give children endless amounts of pencil and paper worksheets for working on handwriting, we do want to make sure we give our children the opportunity to develop fine motor skills and hand-eye coordination.
My hope in creating these pages for working on handwriting is that children will be able to practice handwriting while having a little fun.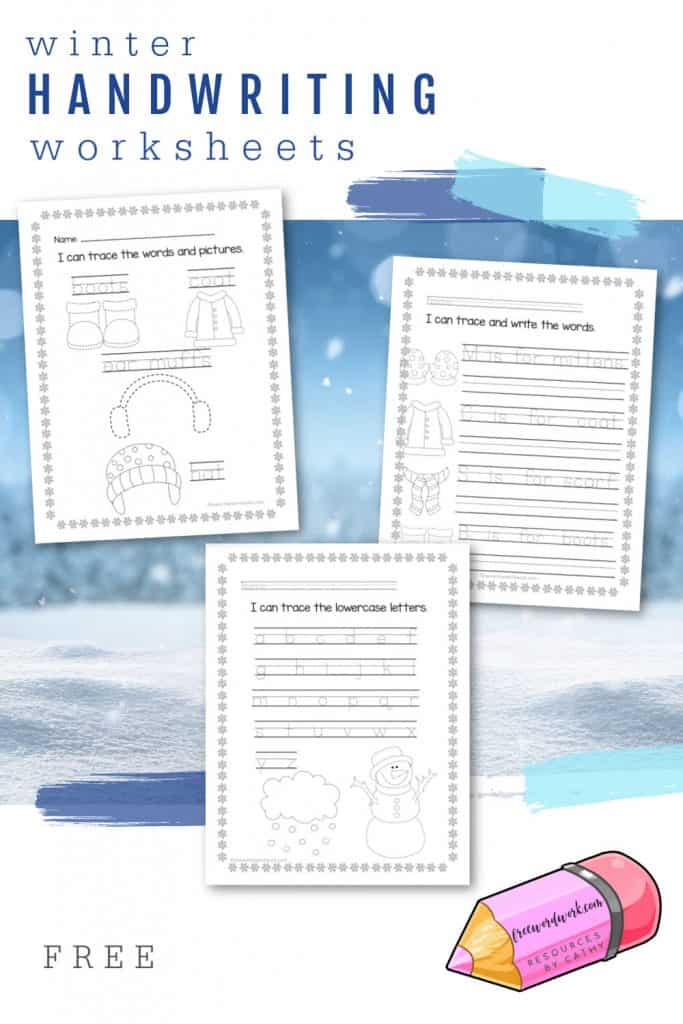 Using these Winter Handwriting Practice Pages
There are a total of 12 worksheets for you to print. I always like to print a variety of pages and then let children choose the page they would like to complete.
Provide children with a range of writing materials.
Different sizes of pencils, crayons and markers allow your child to work on their grip. They will need to exert different amounts of pressure with each tool. Plus, providing options makes it a little more fun for your child.
If you are really brave, you might even offer glitter glue pens for a little extra excitement.
In these pages, children will practice tracing along with letter formation. Along with tracing uppercase and lowercase letters, students will trace winter words.
I've included some short writing response activities.
You can approach the name writing page in two ways.
If your child is not yet fluently writing their name, you might begin by neatly writing their name on the top line. Be sure to form each letter slowly and carefully as a good model for your child. You can use the uppercase and lowercase alphabet pages to help if needed.
If your child is able to write their name and just needs the practice, they can fill in their own name on each line.
Children can continue to work on their fine motor skills by coloring the clip art and borders found on each page.
You can download this freebie here:
Looking for other resources to add to your winter collection? Try these:
Thank you to Marcelle's KG Zone and Zip a Dee Doo Dah Designs for the clip art.
Thank you for visiting freewordwork.com! All of the resources provided are free for classroom and home use. Resources may not be sold or modified and sold. Please send me a message if you have any questions.