This set of 12 free worksheets will provide your children with how to glue practice.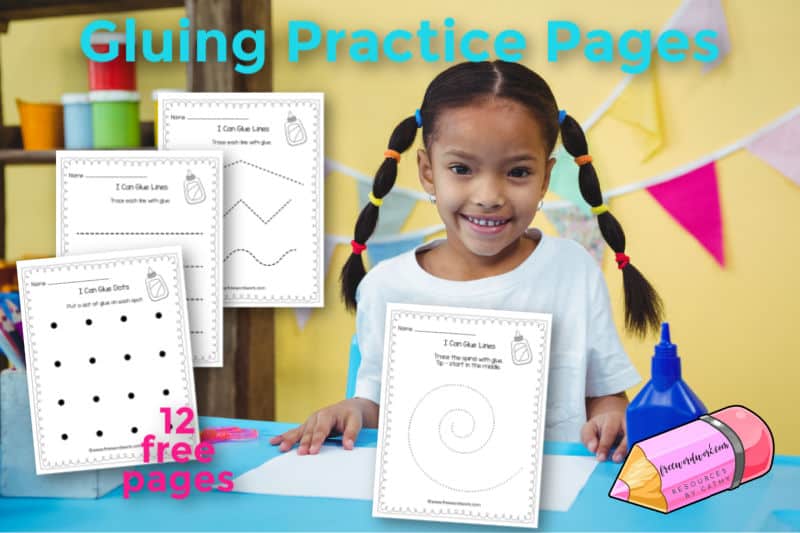 This is another free set of printables for teachers and families from www.freewordwork.com.
Download this free set of 12 glue practice worksheets for helping your children learn how to glue.
Why Should Children Practice How to Glue?
In classrooms, children often receive practice with bottles of glue and glue sticks.
While bottles of glue can be messy, many teachers prefer them to glue sticks.
Glue sticks are definitely easier to master but the glue does not always hold as well.
Because of this, it can be helpful to have your children practice gluing without making a mess.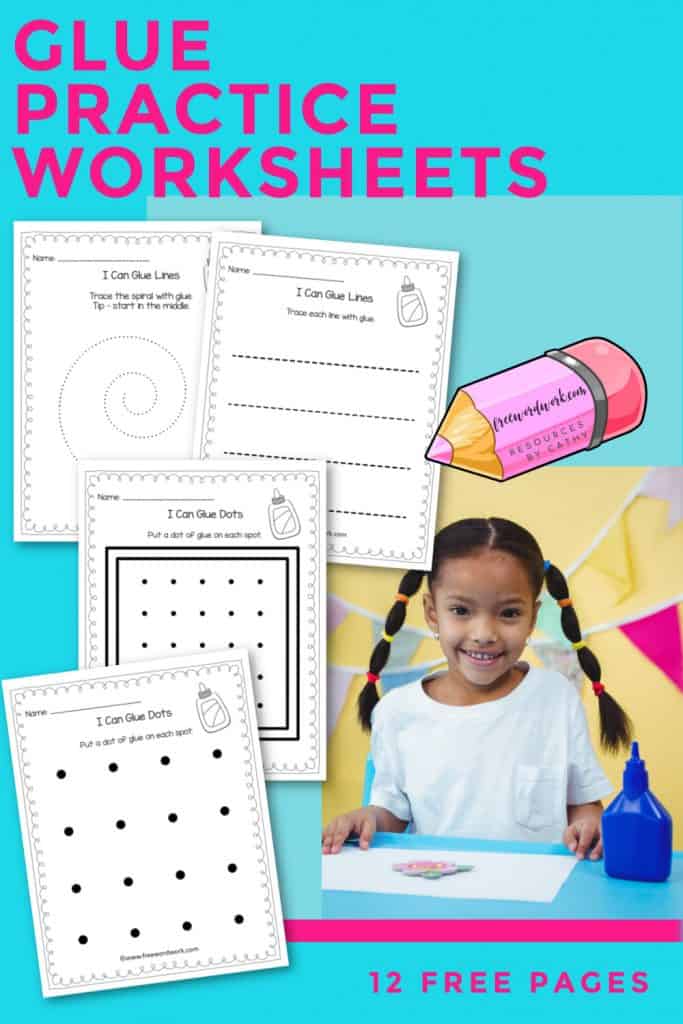 Tips for Using Glue
As you are teaching your children how to use glue, you might offer a few tips to make the process easier.
First of all, children need to learn that only a small amount of glue is needed. No teacher wants a paper turned in with globs of glue. The glue seeps through the other pages and you have one massive stack of work, all glued together.
Often teachers will help children remember not to overuse glue by repeating the phrase:
Just a dot, not a lot!
Also, it is helpful to remind your children to close the lids after use. Even better is having them wipe down the sticky tops!
While using glue can seem like a simple process, teachers will thank you for having a child who has already mastered the process. Passing out 25 bottles of glue to preschoolers or kindergarteners can lead to quite the mess! Having a few that already know what to do can be such a help!
You can download this free set of gluing worksheets here:
You might also be interested in these other resources for working with your children at home:
Thank you for visiting freewordwork.com! All of the resources provided are free for classroom and home use. Resources may not be sold or modified and sold. Please send me a message if you have any questions.