Use this set of gingerbread cut-up sentences as a winter-themed literacy activity for your children.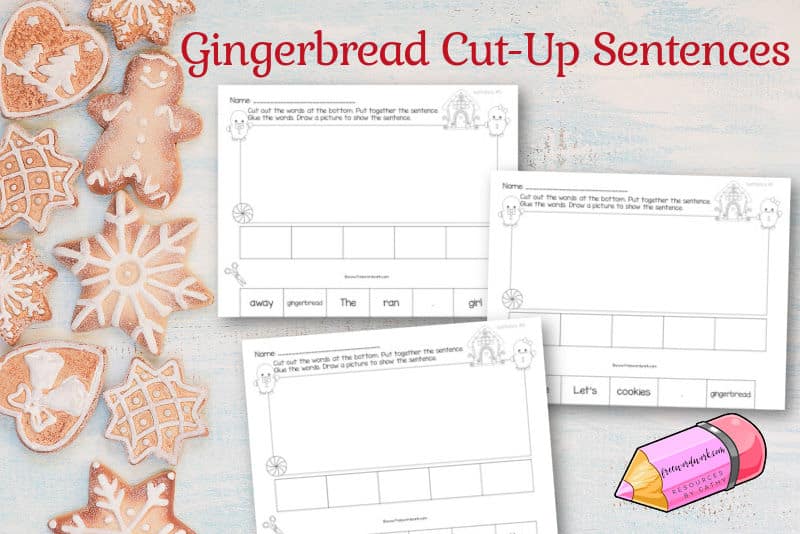 This is another free resource for teachers and families from www.freewordwork.com.
You can download this set of gingerbread cut-up sentences below in this post.
During December (and sometimes other times in the year) gingerbread stories can be a fun classroom focus.
Exploring different version of gingerbread stories can be fun and while this activity does not have a Christmas focus, it does add a little seasonal fun to learning in the classroom or at home.
While you are focusing on gingerbread stories in your class, these scrambled sentence worksheets can be fun literacy work for your children.
This set contains eight different sentences, each with a gingerbread theme.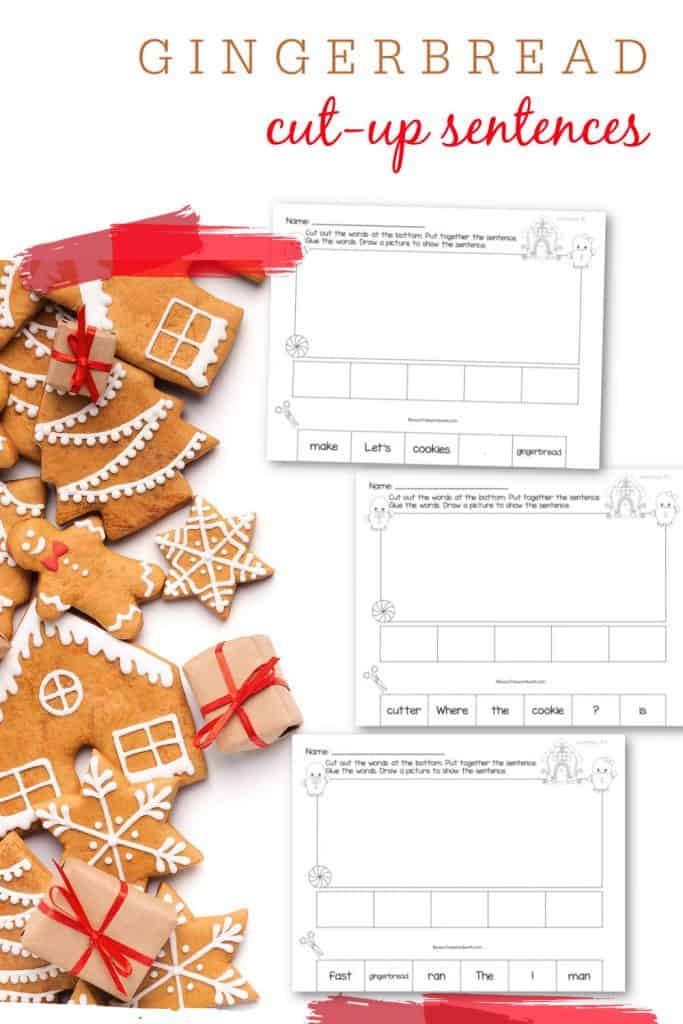 Ready to try these gingerbread cut-up sentences?
These seem like a very simple idea but the best part about these sentences is that they are engaging.
When I would pull out a page of cut-up sentences like these, my students would get so excited.
These worksheets are a great choice for literacy work because they give the opportunity for multiple skills to be practiced.
The pages allow children to practice fine motor skills by cutting, gluing and drawing.
Students can work on reading basic words while working on the worksheets.
Finally, children will also get practice with comprehension. This happens when students are arranging the words to make meaning and then illustrating the sentence.
Supplies Needed
To complete these pages, children will need these basic supplies:
scissors
glue
crayons or colored pencils
Children will complete these pages by first cutting out the words. Next, they will unscramble the words in order to create a meaningful sentence.
They will then glue the words in place. Finally, they will draw a picture to show the meaning of the sentence.
Download these gingerbread boy and girl themed sentences here:
Looking for other resources your children might like? Try these:
Thank you for visiting freewordwork.com! All of the resources provided are free for classroom and home use. Resources may not be sold or modified and sold. Please send me a message if you have any questions.