Download this free set of summer coloring pages to help you create your own summer coloring books for your classroom or children at home.
These summer themed pages have been designed to help you create your own coloring books for summer fun.
This is another free resource for teachers and homeschool families from www.freewordwork.com.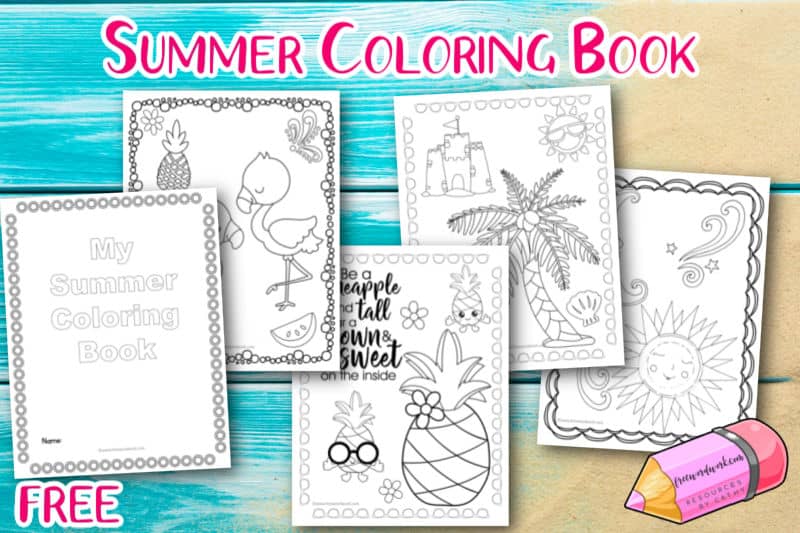 You will be able to download this free set of summer themed coloring pages to create your own booklets for a little summer coloring.
There are a total of 12 pages for you to choose from.
You can choose to print the entire book front to back and then staple to create a coloring book.
Or, print individual pages so children can choose their favorite designs.
The summer themed pages I am sharing include beach pictures, flamingoes, ocean animals and more. I hope these will be fun for your children to color!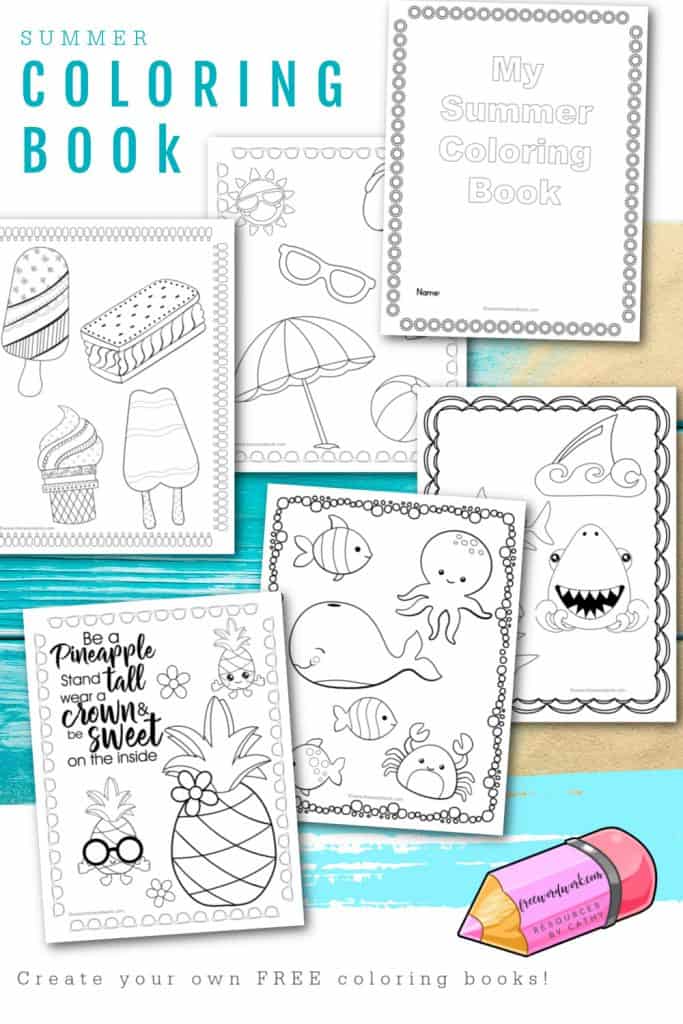 What are the benefits of kids coloring?
Many times we think of coloring as a just for fun activity. Often children just enjoy the easy task of coloring and are having fun while doing it.
However, there are many benefits to children coloring!
It provides fine motor practice. Practicing coloring can help children strengthen muscles in their hands. Give children practice with different grips by providing a variety of coloring tools. You might have children use chunky crayons, colored pencils and markers.
Children will work on hand-eye coordination. This is another skill children will practice when they are coloring. Children will be tracking the movement of hands with their eyes as they color.
Practicing can help improve hand writing. Children will be working on the correct grip as they are coloring.
It provides relaxation. Coloring can be fun but it can also act as a stress reliever. A part of this is giving children choice when coloring. If a child is scribbling to get out frustration, allow this. If a child would prefer a blank sheet of paper, provide this as a choice.
About this free set of summer coloring pages
After you have downloaded this PDF, you can choose the pages that your children will enjoy.
Give students a variety of coloring materials. You might share crayons, colored pencils and markers.
You might have some students who would prefer pages printed on cardstock. These pages can then be printed using water colors.
You can download this free coloring set here:
Looking for other free resources your children will enjoy? Try these other freebies:
Thank you for visiting freewordwork.com! All of the resources provided are free for classroom and home use. Resources may not be sold or modified and sold. Please send me a message if you have any questions.