These Hide & seek rhyming words for summer are a fun way for children to practice reading and writing rhyming words.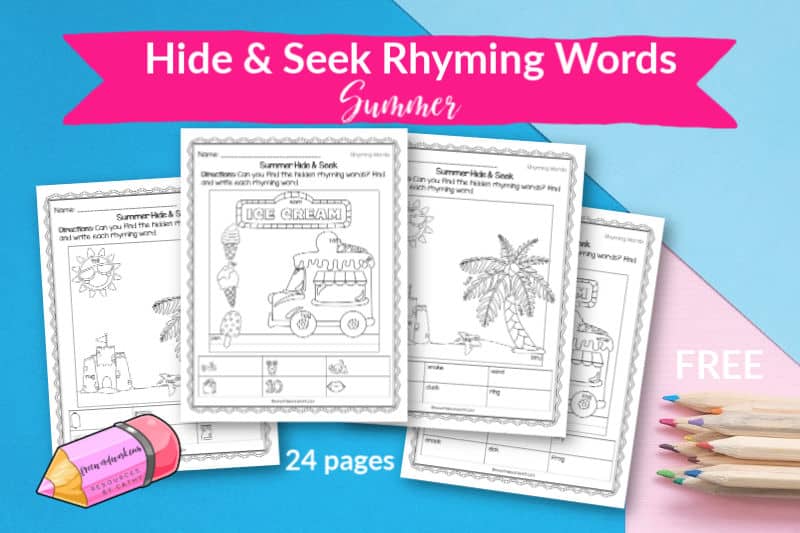 This is another free resource for teachers and parents from www.freeworkwork.com.
Download and print these free hide & seek rhyming words for summer to help your child practice reading and writing rhyming words.
This set was created to help give children an engaging and fun way to practice rhyming words while still using pencil and paper.
This set is created with fun, summer themes. You will find a beach background along with a summer ice cream truck background.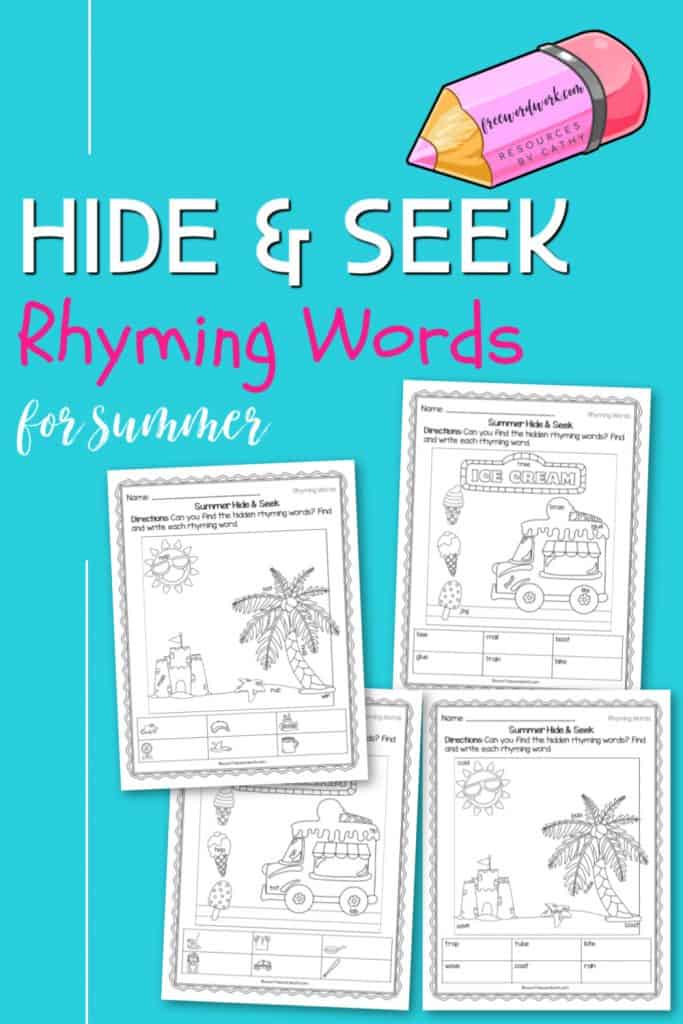 Practicing Rhyming Words
There are many fun ways to practice rhyming words with your children without using paper and pencil.
You can simply give your child a rhyming word and have them respond with a rhyming word of their own.
Or, pick a favorite book and have children find the rhyming pairs as you read aloud.
Hide & Seek Rhyming Words for Summer
This set was created to give children a fun way to practice rhyming words.
There are a total of 14 designs, each provided with picture and word clues at the bottom.
Students will identify the picture at the bottom or read the word at the bottom. They will then find the hidden rhyming word in the picture.
You can also encourage your children to color the pictures to give students the opportunity to work on fine motor skills while practicing their reading.
Some of the pages have three letter CVC words while others contain long vowel sounds, blends and digraphs. Be sure to choose the pages that fit the needs of your child.
Download this free rhyming words set for summer set here:
Looking for more free rhyming word resources? You might like these:
Clip art used in these free worksheets is from PrettyGrafik Designs, EduClips, Creating for the Classroom & Marcelle's KG Zone.
Thank you for visiting freewordwork.com! All of the resources provided are free for classroom and home use. Resources may not be sold or modified and sold. Please send me a message if you have any questions.