Download this free set of St. Patrick's Day Coloring Pages to put together your own coloring books for March.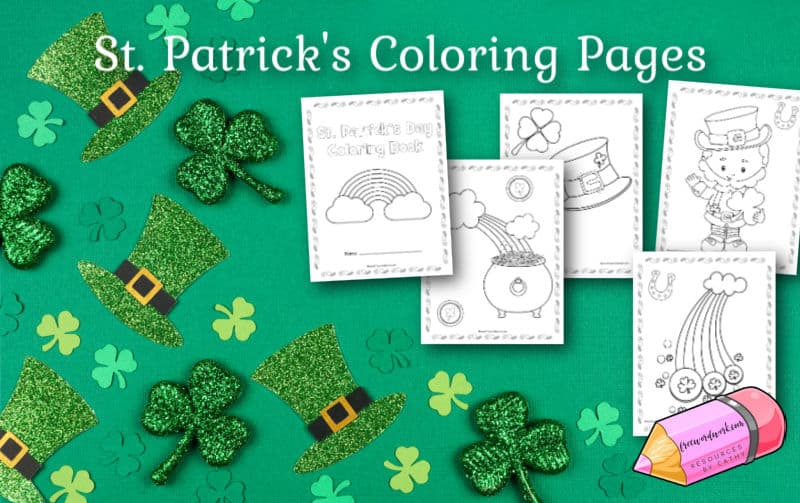 This is another free resource for teachers and homeschool families from www.freewordwork.com.
This free set of St. Patrick's Day coloring pages download can be found at the bottom of this post below the bright pink box
You will find a total of 10 pages. There is a cover page you can use to make coloring books if desired. Then, there are 9 pages to use when creating your coloring books.
These pages are filled with leprechauns, shamrocks, gold coins and rainbows.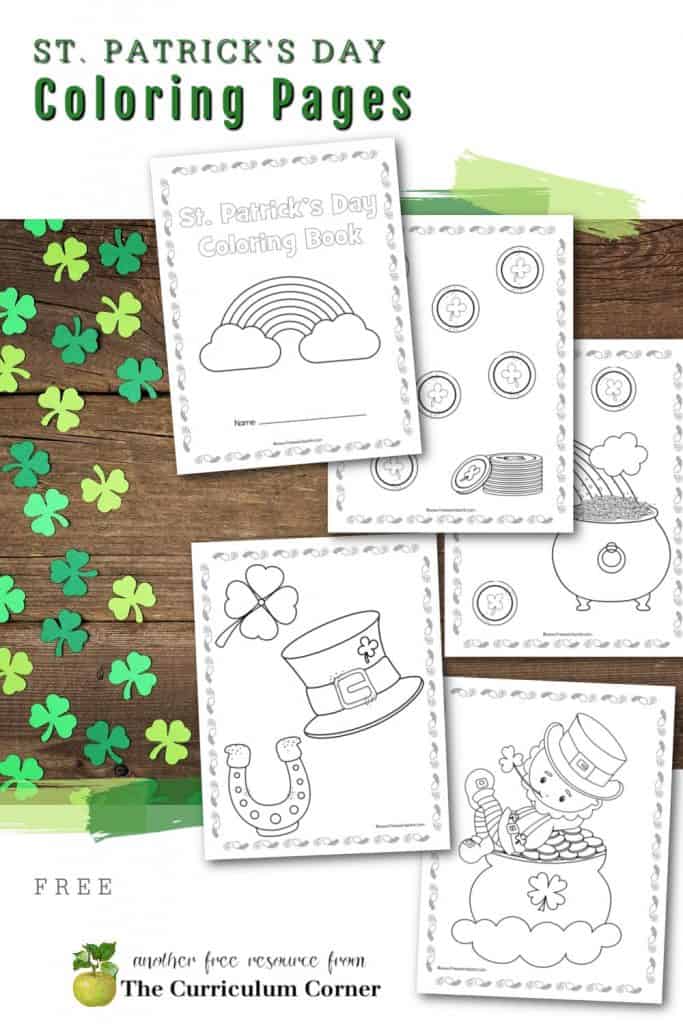 What are the benefits of coloring for children?
Often we think of coloring pages being an activity just for fun.
However, when you start reading about the benefits, you realize that there is more to coloring than just having fun.
Fine Motor Practice Practicing coloring will help children strengthen the muscles in their hands. Provide even more practice by giving students different coloring materials. They might rotate between chunky crayons, regular crayons, triangular crayons, colored pencils and markers.
Hand-Eye Coordination This is another skill children will practice while coloring. This skill helps children track the movement of our hands with our eyes.
Improves Handwriting Working on the two skills noted above helps with this one! Along with the practice on the two above skills, it also allows children to work on a correct grasp.
Relaxation Not only do many children find coloring fun, it can also be a relaxing activity for some. Be sure to give your children freedom in their coloring. Maybe coloring with what we see as scribbles is a way for a child to get out their frustrations out.
About these free St. Patrick's Day Coloring Pages
This download provides a variety of pages for your children to choose from.
If you choose not to create coloring books, you can print a few of each design.
Then, let students choose the page or pages that they will enjoy the most.
Offer your children a variety of coloring utensils. Other than crayons, provide colored pencils and markers.
Maybe some students will get a little more artsy and glue on colorful tissue paper scraps.
Along with the coloring pages, provide students with blank sheets of paper. Not all children love coloring. Maybe some prefer drawing and coloring their own pictures.
You can download this free March set of coloring pages here:
Looking for other freebies for your children? Try these:
Thank you for visiting freewordwork.com! All of the resources provided are free for classroom and home use. Resources may not be sold or modified and sold. Please send me a message if you have any questions.