Download this set of fall coloring pages for a little bit of fall artistic fun.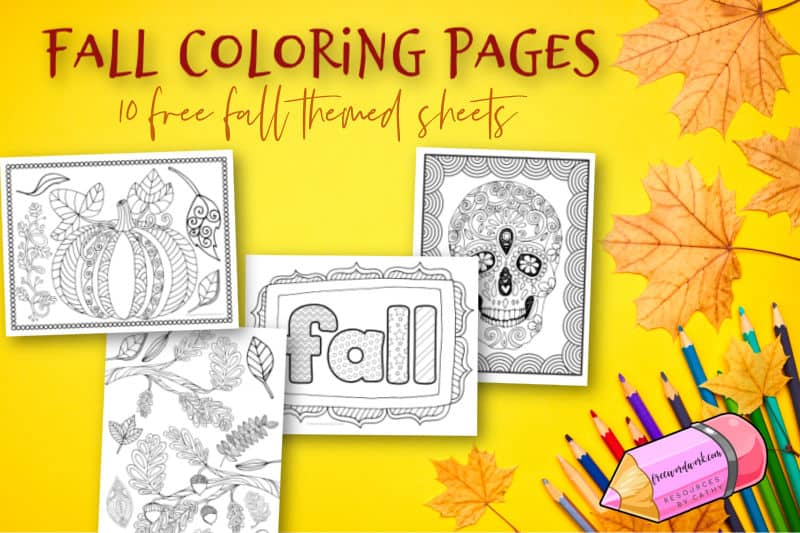 This is another free download for families and teachers from www.freewordwork.com.
You will find a download for 10 free fall coloring pages at the bottom of this post.
This set of free worksheets contains fall leaves and pumpkins. You will also find other fall favorites for Halloween and Thanksgiving.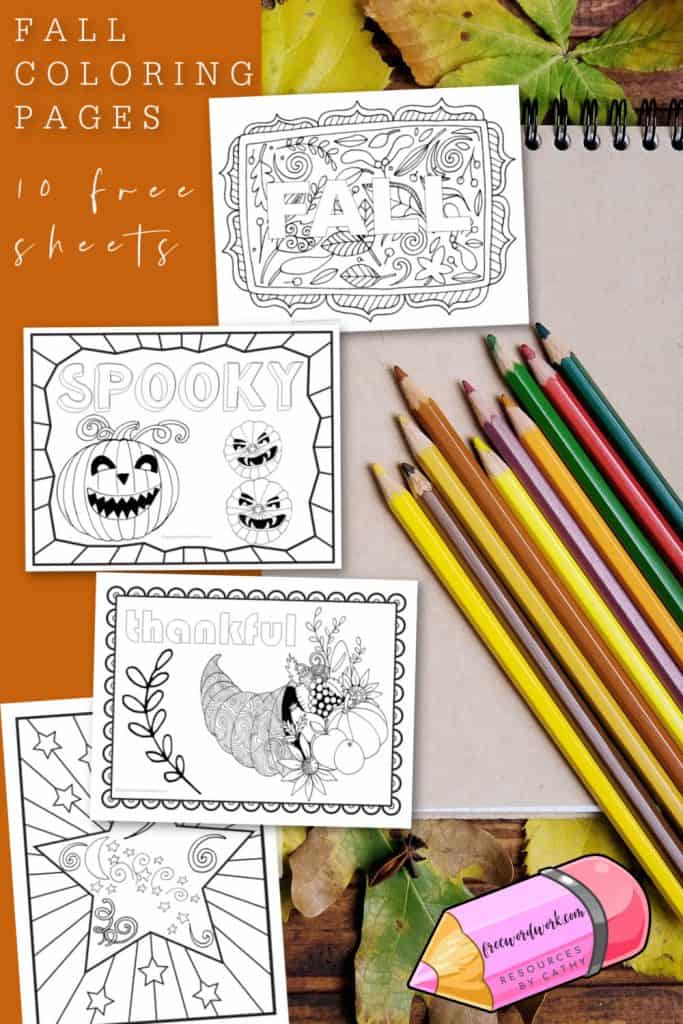 What are the benefits of children coloring?
When we think about coloring pages, we tend to think that they are just for fun.
While children might enjoy the activity, there are many real benefits when your students participate in the activity.
Fine Motor Practice This is especially true with the designs and fine lines found on these pages. Coloring will help children strengthen the muscles in their hands.
Hand-Eye Coordination We need this skill to track the movement of our hands with our eyes. The eyes can send important signals to our brain about our hands. Developing this skill helps eliminate what we offer refer to as clumsiness.
Improves Handwriting Part of this is due to the two skills mentioned above. Coloring can also improve handwriting by helping children develop a correct grasp on their writing tool.
Relaxation Coloring can also provide stress relief for children and adults. Focusing on the task of coloring can be relaxing because as they focus on something simple, it helps children release their emotions. Some children might do this through their coloring. For example, a child might begin with more of a scribble while they are angry and slowly calm down and become neater as they calm down. Because this might be and emotional outlet, it is important not to critique the results. If your child is coloring hard or scribbling a little, this might be how they are getting their emotions under control.
These free fall coloring pages
These pages provide your students with a range of choices. They can be a great option when your children need a little break.
When offering these pages to your students, make sure you provide the right materials.
Crayons can be used but I think children will enjoy using other art tools more. Sharp colored pencils are a good option.
Also, children can use fine line markers.
Anything that has a sharp tip will be a good option. Children will like having a choice of colors when completing the work.
Or, maybe provide many shades of one color. You might give one child different shades of orange and another child different shades of red. The monochromatic look achieved will look for artsy.
You can download these free pages here:
Looking for other fun printables? Try these:
Thank you for visiting freewordwork.com! All of the resources provided are free for classroom and home use. Resources may not be sold or modified and sold. Please send me a message if you have any questions.