Download this free antonym word list to help you when you are teaching antonyms in the classroom.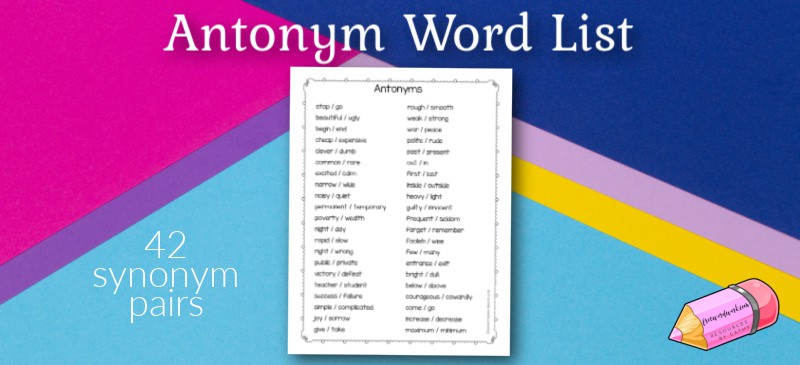 This is another free resource for teachers and families from www.freewordwork.com.
This printable antonym word list is being offered to help you with your planning and teaching.
What are antonyms?
Antonyms are words that mean the opposite of each other.
An example of an antonym pair is bad and good.
Second grade classrooms often begin working on antonyms although some first grade classrooms might be ready.
When you introduce antonyms, you will start with words that kids already know like big and small or sad and happy.
As you continue working on this skill, the words can become more complex.
Working on antonyms with help students process the meaning of words and develop their vocabulary.
In the classroom you might use antonym practice as a time filler when you have a few extra minutes.
Give students a word and have volunteers share antonyms to match.
| | |
| --- | --- |
| stop / go | rough / smooth |
| beautiful / ugly | weak / strong |
| begin / end | war / peace |
| cheap / expensive | polite / rude |
| clever / dumb | past / present |
| common / rare | out / in |
| excited / calm | first / last |
| narrow / wide | inside / outside |
| noisy / quiet | heavy / light |
| permanent / temporary | guilty / innocent |
| poverty / wealth | frequent / seldom |
| night / day | forget / remember |
| rapid / slow | foolish / wise |
| right / wrong | few / many |
| public / private | entrance / exit |
| victory / defeat | bright / dull |
| teacher / student | below / above |
| success / failure | courageous / cowardly |
| simple / complicated | come / go |
| joy / sorrow | increase / decrease |
| give / take | maximum / minimum |
You can download a printable version of this word list here: