These word work mini-lessons for consonant digraphs are designed to fit into your science of reading approach.
You can download these mini-lessons for consonant digraphs to help you as you integrate the science of reading into your instruction.
This collection of lessons includes the materials you need to help children work on reading skills.
This is another free resource for teachers and homeschool families from www.freewordwork.com.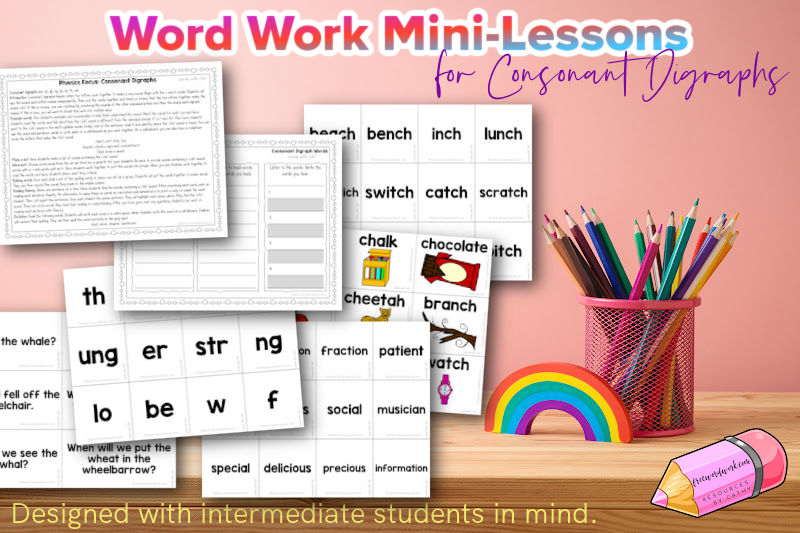 The Science of Reading
I am working on learning more about the science of reading and practices the research support.
If we know that there are approaches that will help the readers in our classroom, I believe that it is our job to read and learn what they will look like when implemented.
I will be teaching sixth grade in the fall and while I know that the majority of my students will already be reader, there are some that will benefit from phonics instruction they might not have received earlier.
I have been working on finding ways to integrate the need for phonics instruction in an intermediate classroom. Many of the lessons and practice activities I encounter are designed to meet the needs of younger students.
A sixth grader who is working on a lesson designed for first and second graders will quickly label the lesson "babyish" and struggle with staying engaged.
In order to keep students in fourth, fifth and sixth grades engaged in phonics lessons, we will have to find new ways to reach the children.
Learning more
I've been reading the book (contains affiliate link – I will receive a small commission when the book is purchased through this link) Teaching Phonics & Word Study in the Intermediate Grades by Wiley Bivens. I feel like this book has been able to help me move in the right direction in terms of creating phonics ideas for older students.
Using what I have learned in the book, I have created a set of mini-lessons focusing on consonant digraphs. One part of this book I find very helpful are the word lists covering different sounds. I was able to use these as a starting point for the ideas I created. They helped me make sure I was on track and I was then able to add words of my own.
To make sure I was creating meaningful activities, I not only worked with single syllable words, I also made an effort to include multisyllable words where students could also work on vocabulary building.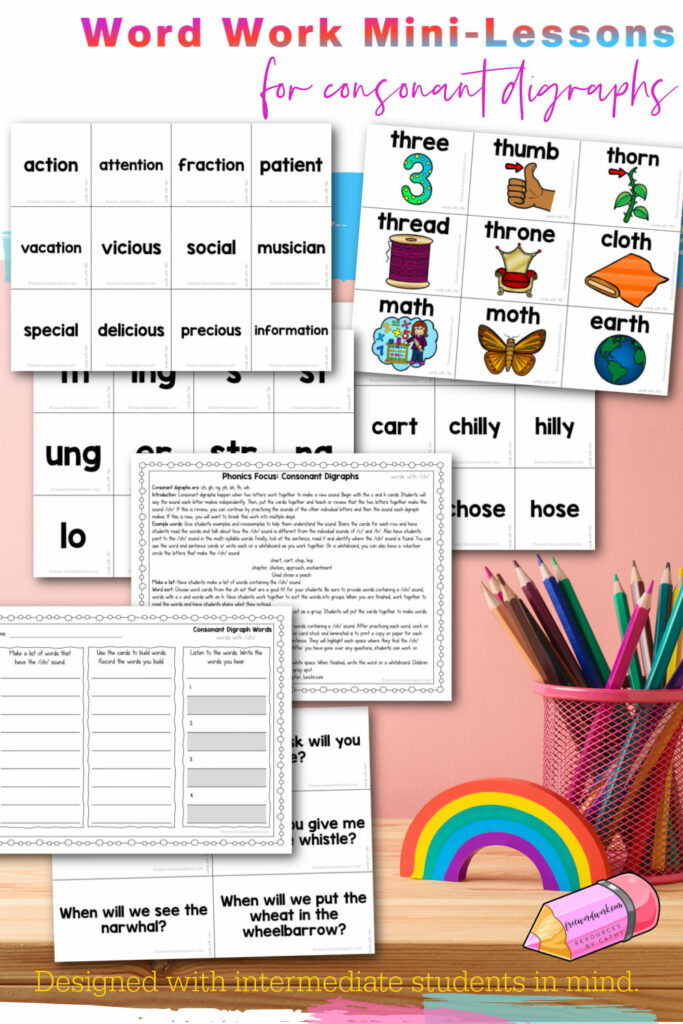 About these word work mini-lessons for consonant digraphs
First of all, I will not be surprised when there is a need for these lessons to be modified. I tried to think through different possibilities in the classroom and share the ideas how I envision them working best. However, we all know what happens is never what we plan! Please feel free to modify these ideas to fit the needs of your students.
You will find a written-out lesson for the following consonant digraphs: ch, sh, th, ng and wh. I chose these digraphs because they provided the most words to work with fitting into each category.
Each of the lessons follow the same format and the same materials are supplied for each digraph.
The cards included for each digraph are labeled so that it will make sorting easy for you. There are nonexamples in each set. It is important to note that even though a card is labeled as /ch/, it might be a nonexample.
Many of the activities described will fit familiar routines if you did Four Blocks or other working with words activities. You will find materials for an activity similar to making words and there are word sorts.
At the bottom of each lesson, you will find a dictation. I modeled this after an article I recently read: Beyond the Rainbow: Retrieval Practice Leads to Better Spelling than Rainbow Writing. It's a small piece of the lesson but it felt like a good opportunity to practice the approach.
I hope you find the ideas I am sharing helpful! Please feel free to modify them to fit your students – I am hoping they will work as a starting point for you to create what your children need. Also, these are intended to be free for all – you do not have permission to edit and sell these resources.
You can download these consonant digraph materials by clicking on the pencil below:

Need an option that includes explanations of each word? This list contains the meaning along with clues to help your students remember.