These parts of speech anchor charts have been created to fit 4th, 5th and 6th grade language arts standards.
Download this set of parts of speech anchor charts to provide your students with a handy resource.
You will find different versions of this chart so you can choose the one that fits your students best.
This is another free resource for teachers and homeschool families from www.freewordwork.com.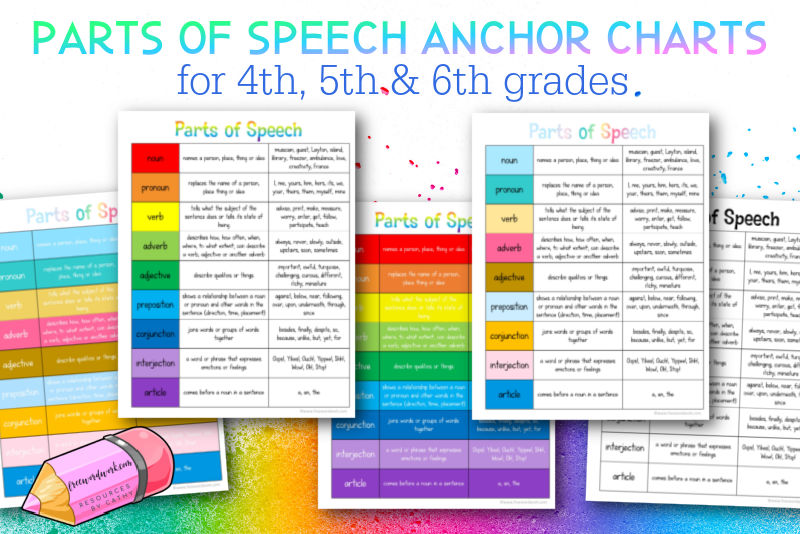 Working on English skills
Teaching English and grammar in the classroom can be a challenge because often students do not find it engaging.
Even though it can be hard, it is so important to find ways to pull students into this learning.
It requires a lot of trial and error to find ideas that fit your students best.
Even older kids can benefit from ideas that incorporate movement. You might send students on a hunt in your classroom for words in print to fit each category of words you are practicing.
Maybe some students would benefit from writing a song about identifying parts of speech.
Getting creative will pay off in the end!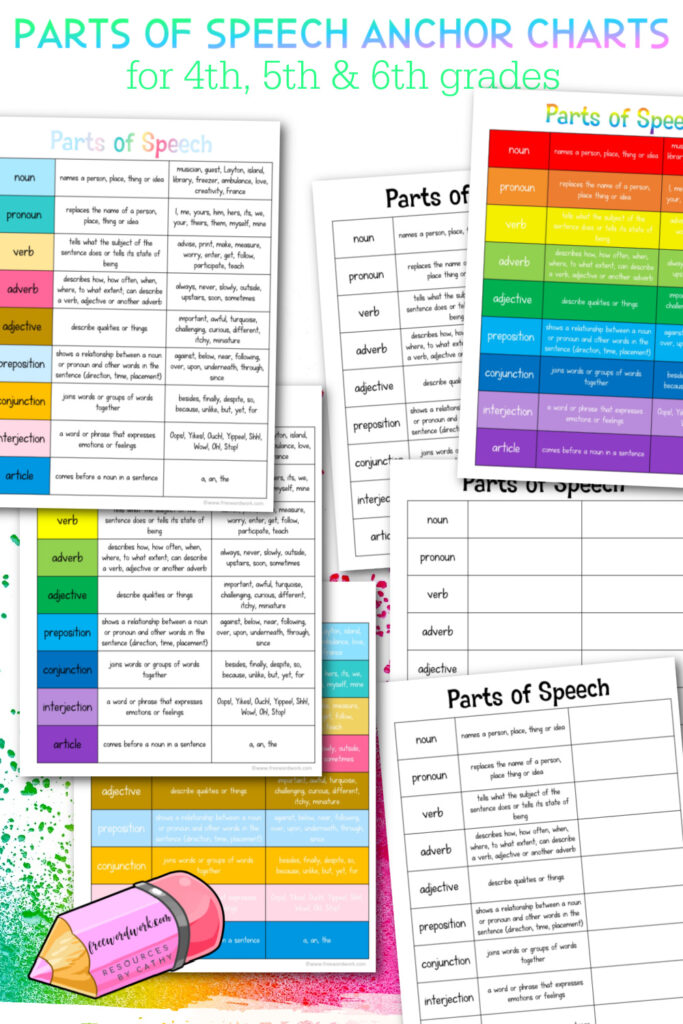 These parts of speech anchor charts
I have created a few different options so you can choose the page or pages that are best for your students.
First, there are black and white versions. One has been completed. You might also choose to use the version where students share examples or even examples and definitions.
The next two are a little more colorful. They will take more ink but could also be used for poster-sized printing.
If you want a little color but feel that it is easier to read the black font, you can go with the last two options.
The following parts of speech are included:
noun
pronoun
verb
adverb
adjective
preposition
conjunction
interjection
article
You can download these free pages by clicking on the blue pencil below:

Thank you for visiting freewordwork.com! All of the resources provided are free for classroom and home use. Resources may not be sold or modified and sold. Please send me a message if you have any questions.