This volcano parts of speech sort will fit into your volcano focus in the classroom.
Students can work on sorting volcano themed words with this volcano parts of speech sort.
This is another free resource for teachers and homeschool families from www.freewordwork.com.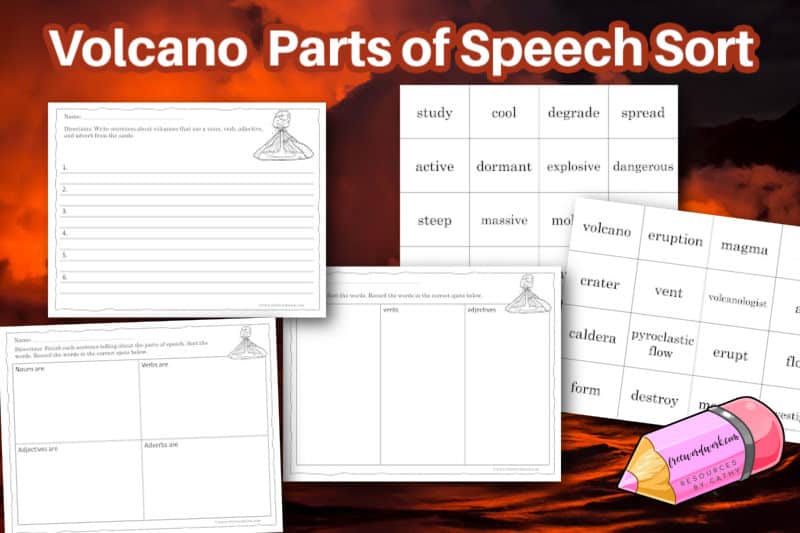 Volcano Parts of Speech Sort
This activity can be used as a card sort or as a write the room type of activity.
Once students have sorted the words, you can choose if you would like them to record their responses.
In my class, I had students record their answers in their word work notebooks.
I have also included three different recording pages that you can choose from.
Another option is to have students take a picture of the sorted words to submit on Canvas.
As a warning, this is a more challenging word sort. For example, the word cool is included. In terms of volcanoes, it would be used as the lava will cool so it is an verb. Since it can also be used as a
Words included:
Nouns
volcano
eruption
magma
lava
crater
vent
volcanologist
ash
caldera
pyroclastic flow
Verbs
erupt
flow
form
destroy
monitor
investigate
study
cool
degrade
spread
Adjectives
active
dormant
explosive
dangerous
steep
massive
molten
smoky
ashen
fiery
Adverbs
rapidly
dangerously
violently
constantly
energetically
swiftly
intensely
widely
gently
volcanically
You can download this resource by clicking on the blue pencil below:


Thank you for visiting freewordwork.com! All of the resources provided are free for classroom and home use. Resources may not be sold or modified and sold. Please send me a message if you have any questions.