These cave scrambled sentences are designed to help students learn about caves while working on sentence structure.
Download this set of cave scrambled sentences to give your students practice with sentence structure.
This set is another free resource for teachers and homeschool families from www.freewordwork.com.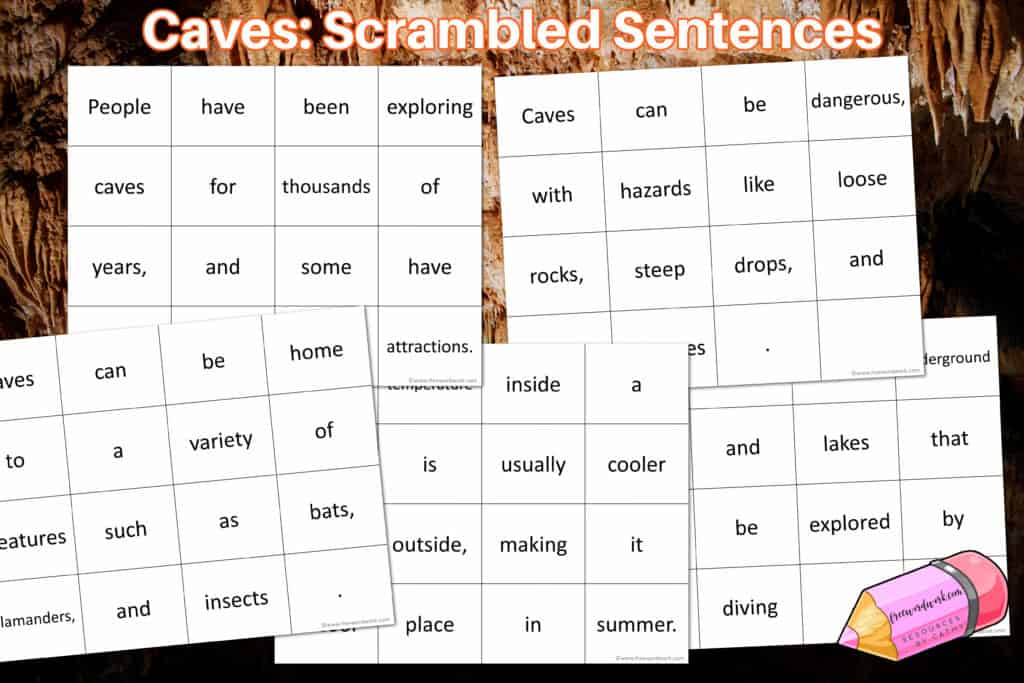 About this set
I created this set when we were doing a quick study of caves in my classroom.
My sixth graders beg for scrambled sentences so I am trying to create sets that will be challenging while also teaching facts about our current topic.
I print each sentence on a different color of card stock. I then laminate and cut apart the sentences.
Students usually are instructed to complete two or three sentences but I have found that many students want to work on unscrambling all of the sentences.
For students who struggle with this task, I pull them aside and work in a small group.
This download includes these cave scrambled sentences:
Caves are natural formations found underground or in cliffs and mountains.
Cave are formed by erosion, dissolution, and other geological processes over time.
Some caves have unique features like stalactites, stalagmites, and helictites.
Caves can be home to a variety of creatures such as bats, salamanders, and insects.
People have been exploring caves for thousands of years, and some have turned into tourist attractions.
Exploring caves requires special gear such as helmets and flashlights.
The temperature inside a cave is usually cooler than outside, making it a cool place in summer.
Caves can be dangerous, with hazards like loose rocks, steep drops, and narrow passages.
Some caves have underground rivers and lakes that can be explored by cave diving.
Caves have been important to humans for shelter, storage, and cultural purposes throughout history.
You can download this free set by clicking on the blue pencil below:

Thank you for visiting freewordwork.com! All of the resources provided are free for classroom and home use. Resources may not be sold or modified and sold. Please send me a message if you have any questions.