Download this set of blend manipulation picture worksheets to help your students work on phonics skills.
These free blend manipulation picture worksheets are designed to help your students practice phonics skills.
This set focuses on the practice of changing the spelling of words that begin with blends to match corresponding pictures.
This is another free resource for teachers and homeschool families from www.freewordwork.com.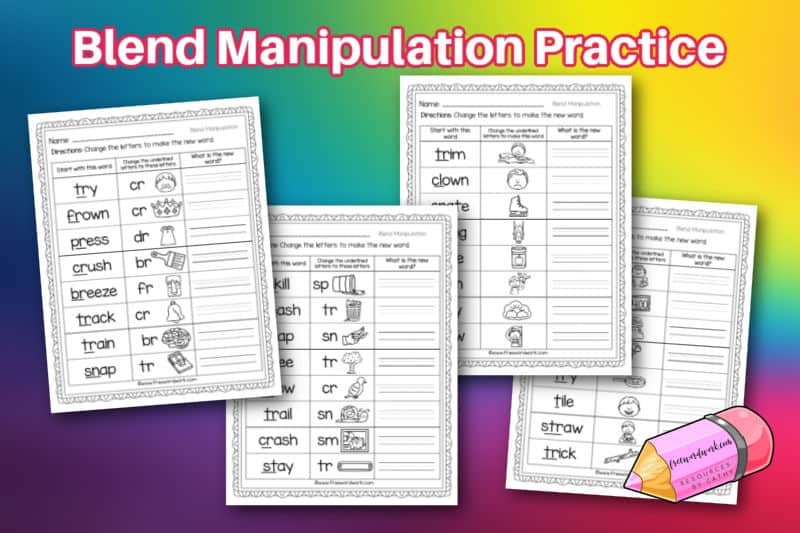 Blend Manipulation
These pages will help your children strengthen their phonics abilities.
Blends are combinations of two or more consonant sounds. Blend manipulation worksheets can offer valuable practice by helping students work with blends at the beginning of owrds.
By underlining the blend and prompting students to modify its spelling, these worksheets will encourage children to actively engage with blends. They will get practice with understanding their role in word formation.
Students will first identify the beginning blends. They will then manipulate individual sounds. This is a crucial skill for beginning readers.
About these pages
Students will gain exposure to different word families while working on these pages.
They will begin to recognize patterns within words. Next, they will extend their understanding of how blends contribute to word formation.
Also, students will be working bread down words into individual sounds. This process strengthens their ability to decode unfamiliar words.
When modifying the spelling of blends, students are actively engaging with spelling patterns and rules. This can help children practice with spelling.
You will find four different sets of words. Each set of words in provided in two different formats. One tells students the new blend plus a picture. The other only shares the picture and students must determine the blend to use.
You can download this free set by clicking on the blue pencil below:

Thank you for visiting freewordwork.com! All of the resources provided are free for classroom and home use. Resources may not be sold or modified and sold. Please send me a message if you have any questions.