This summer cursive booklet has been designed to give your children themed practice over the summer.
You can download and use this summer cursive booklet for your school or home.
This is another free resource for teachers and families from www.freewordwork.com.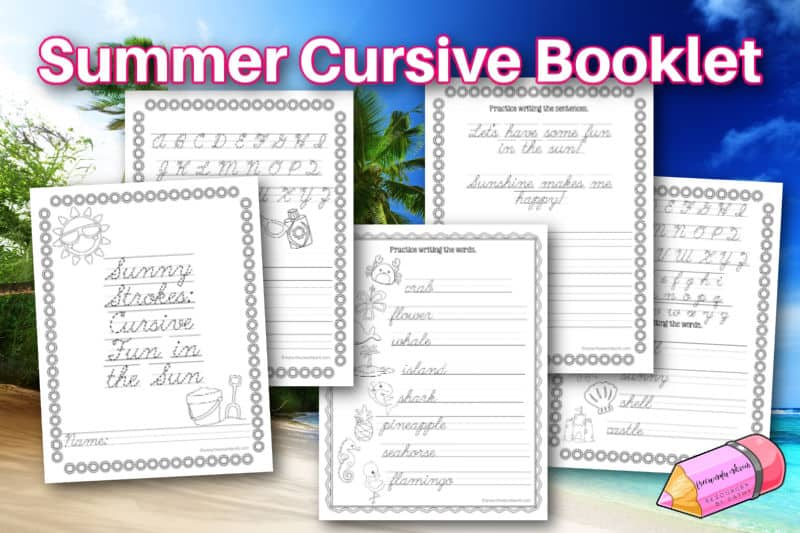 Cursive in the Classroom
Cursive is one of those skills that has gotten pushed aside as we have more and more content to cover in the classroom. It can be difficult to spend precious time on writing when there is so much else to do.
If you are looking for reasons to encourage your students to learn this skill, I have gathered some support.
Cursive has been shown to activate different parts of the brain compared to typing on a keyboard. Science shows that the fluid motion of writing cursive letters, strengthens neural pathways in the brain. This can help improve hand-eye coordination, fine motor skills, and overall cognitive development.
It has also been shown to help boost reading and comprehension skills. As they learn to write in cursive, children develop a deeper understanding of the written word. The connected letters allow young readers to decipher words more efficiently, recognize patters, and improve overall reading fluency.
Studies have shown that students who write in cursive tend to retain information better. In addition, students writing in cursive have better recall abilities.
Practicing cursive requires concentration and patience. Children must pay attention to detail and focus on the act of writing.
Summer Cursive Booklet
This booklet is designed to be printed front to back. You can then staple the pages to create a booklet.
Children might enjoy using different writing materials as they work. Some students might prefer erasable pens to pencils. This will allow for the mistakes they are bound to make as they learn but also encourage some creativity.
You might also add in pages from the summer book on printing. You will find this here: Summer Handwriting Practice.
You can download this new summer cursive booklet by clicking on the blue pencil below:

Thank you for visiting freewordwork.com! All of the resources provided are free for classroom and home use. Resources may not be sold or modified and sold. Please send me a message if you have any questions.