This set of primary volcano fluency and comprehension practice pages is designed for first and second grade readers.
Use this set of primary volcano fluency and comprehension practice pages for your readers.
This is another free resource for teachers and homeschool families from www.freewordwork.com.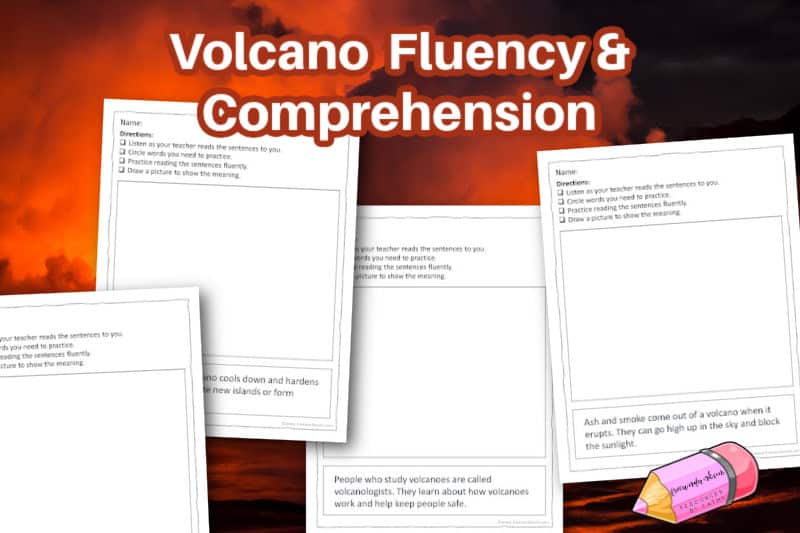 Primary Volcano Fluency & Comprehension
These pages are designed for your first and second grade readers. They have been created with a volcano theme so students can learn about volcanoes while reading.
Because these pages contain words that can be challenging for young readers, begin by reading the sentences to your students.
Work together to help students understand the meaning of the text. Have students circle words that are challenging for them.
This can be a reminder that they need to focus on practicing how to read these words.
After they have worked on reading, have them illustrate what they read. This will help students work on comprehension.
About these pages
This set contains eight pages for reading practice.
Each page contains a checklist with directions at the top.
Listen as your teacher reads the sentences to you.
Circle words you need to practice.
Practice reading the sentences fluently.
Draw a picture to show the meaning.
In the middle, you will find a box where students can illustrate the reading.
At the bottom, there are two sentences about volcanoes.
You can download this set by clicking on the blue pencil below:

Thank you for visiting freewordwork.com! All of the resources provided are free for classroom and home use. Resources may not be sold or modified and sold. Please send me a message if you have any questions.