This story tone list has been designed to help students who are learning about identifying the tone of a story.
Download this story tone list for your students to use as a tool.
This is another free resource for teachers and homeschool families from www.freewordwork.com.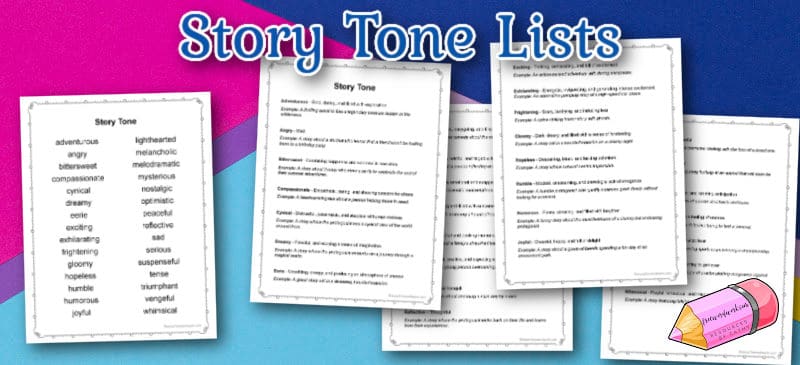 What is story tone?
The tone of a story conveys the emotional atmosphere the story creates. It's the vibe that lingers when you finish reading. It is a part of the feelings evoked and the emotions stirred in the reader. When you are looking at the tone, you are looking at the emotional language of the story.
Why is it important?
Understanding the story tone helps our students develop a deeper connection with the text. It enhances their comprehension skills. It also empowers them to engage with characters, events, and themes on a new level.
Story Tone List
Below is a list of story tones. If you would like the printable version, you will find it at the bottom of the post. I have also created an alternative list that not only shares the story tone but also helps to describe the tone and gives an example.
adventurous
angry
bittersweet
compassionate
cynical
dreamy
eerie
exciting
exhilarating
frightening
gloomy
hopeless
humble
humorous
joyful
lighthearted
melancholic
melodramatic
mysterious
nostalgic
optimistic
peaceful
reflective
sad
serious
suspenseful
tense
triumphant
vengeful
whimsical
You can download this list of story tones here: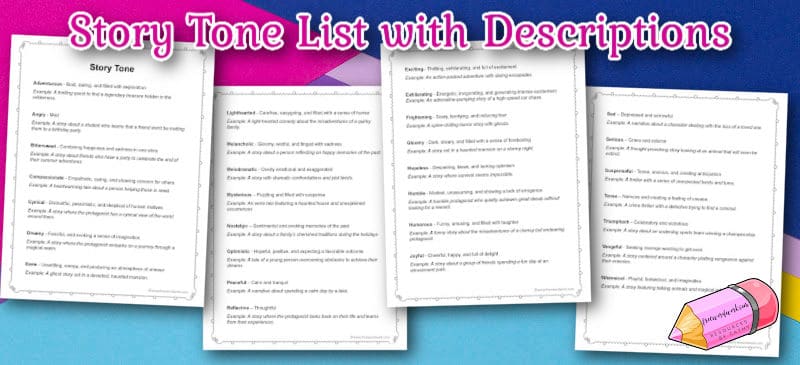 Looking for the list with the descriptions and examples? You will find it here:
Printable List with Explanations
Thank you for visiting freewordwork.com! All of the resources provided are free for classroom and home use. Resources may not be sold or modified and sold. Please send me a message if you have any questions.