This set of consonant + le word sorts will help your students who are working on developing their phonics skills.
These activities are designed to help your students who are working on mastering reading and spelling words that contain a consonant + le.
Add these ideas to your word work activities.
This is another free resource for teachers and homeschool families from www.freewordwork.com.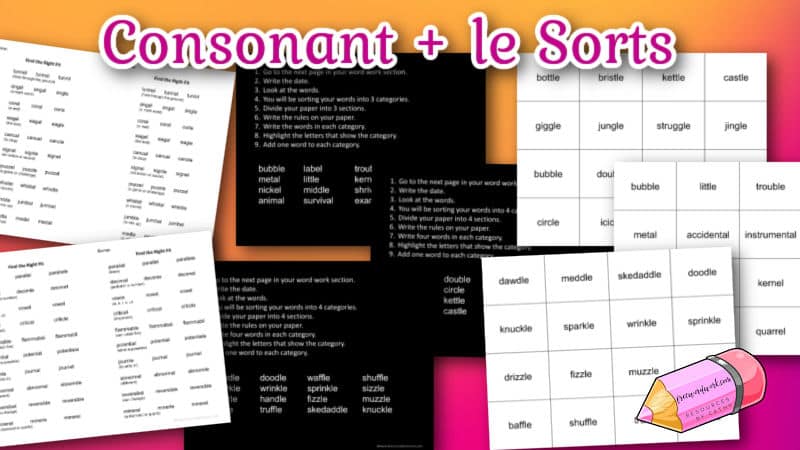 Activities
Word cards – there are three pages of word cards. You can choose the number of cards you provide. Most of the words end in -le but there are some other words with an -al or -el ending.
Word sort slides – there are three slides, one version with a black background and the other with a white background.
Find the Right Fit – There are three half pages. Print and then cut in half. Students will look and circle the word they believe is spelled correctly. Next, have them check their answers. Follow up by having students correct write each word they misspelled.
Words included:
bottle
bristle
kettle
castle
giggle
jungle
struggle
jingle
bubble
double
durable
incurable
circle
icicle
muscle
tricycle
dawdle
meddle
skedaddle
doodle
knuckle
sparkle
wrinkle
sprinkle
drizzle
fizzle
muzzle
sizzle
baffle
shuffle
truffle
waffle
bubble
little
trouble
vehicle
metal
accidental
instrumental
animal
survival
label
kernel
shrivel
nickel
squirrel
quarrel
example
You can download these activities by clicking on the blue pencil below:

Need an option that includes explanations of each word? This list contains the meaning along with clues to help your students remember.