This dialogue tags list is written to help you as you teach students how to add dialogue to their writing.
This resource will provide you with a dialogue tags list for your young writers.
A dialogue tags list can be a helpful tool for your writers as they look to add variety to their writing.
This is another free resource for teachers and homeschool families from www.freewordwork.com.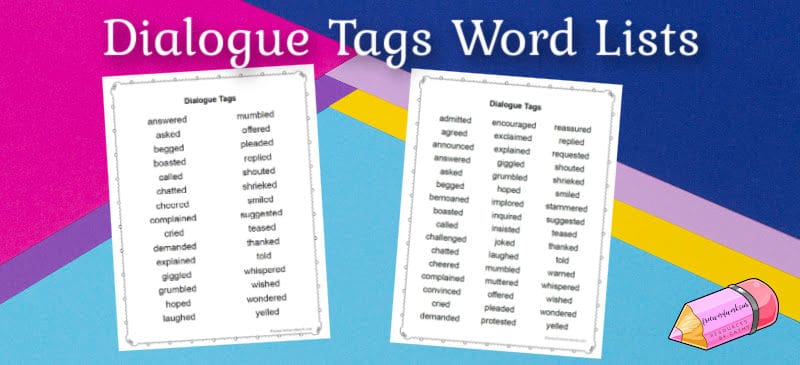 Working on dialogue
Learning how to use dialogue in writing, is an important step to helping writers grow.
It is a tool that will help your writers breathe life into their characters and narratives.
Through practice, students can learn how to make their characters real to the reader.
One piece that will help your writers is expanding their word choice. Having alternatives to using said over and over will be important for your students.
Dialogue tags list
admitted
agreed
announced
answered
asked
begged
bemoaned
boasted
called
challenged
chatted
cheered
complained
convinced
cried
demanded
encouraged
exclaimed
explained
giggled
grumbled
hoped
implored
inquired
insisted
joked
laughed
mumbled
muttered
offered
pleaded
protested
reassured
replied
requested
shouted
shrieked
smiled
stammered
suggested
teased
thanked
told
warned
whispered
wished
wondered
yelled
You can download a printable version of this list by clicking on the blue pencil below:

Looking for a similar list for younger writers, try this list:
Dialogue Tags for Primary Students
Thank you for visiting freewordwork.com! All of the resources provided are free for classroom and home use. Resources may not be sold or modified and sold. Please send me a message if you have any questions.