Download these free space themed Fry Word games to help your children practice sight words in a fun way.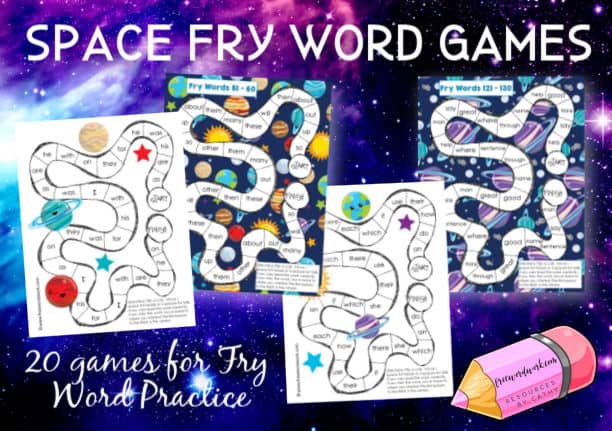 This is another free resource for teachers and families from The Curriculum Corner.
Add these free, printable space themed Fry Word games to your collection of resources for practicing sight words in the classroom (or at home!)
I created this new set of board games with a fun space theme so that your children can practice sight words while interacting with a favorite focus for little ones.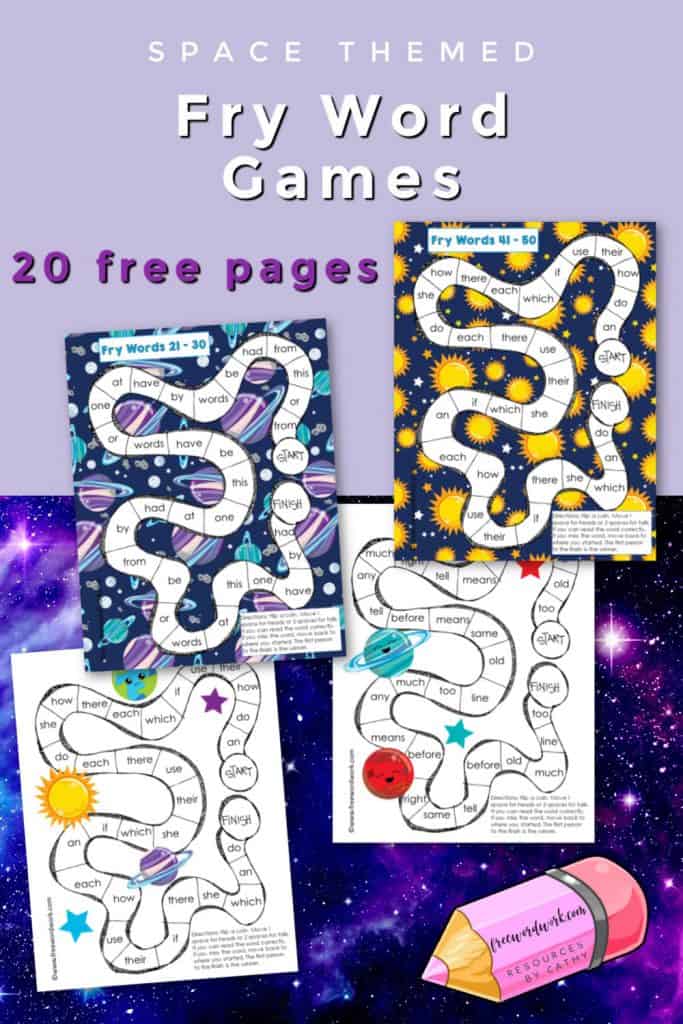 What are Fry Words?
Are you new to Fry Words and not sure what they are? You can start by learning a little more here!
Fry Words are a list of sight words that contain the 1,000 most common words in the English language.
These words are divided into ten groups, each containing 100 words.
When you start working with children who are just beginning to read, you will begin with the first 100 words.
If you are new to sight word instruction and need help getting started, you can start with my video tutorials. The first in this series helps you learn to assess current Fry Word levels and track growth. You can view this here: Assessing Fry Words.
These Space Themed Fry Word Games
This collection contains the first 200 Fry words or the first 2 Fry lists.
There are a total of 20 game boards.
Each game board contains 10 Fry Words. The words occur in the same order they are found on the Fry Word lists.
I suggest printing on cardstock and then laminating the boards for durability.
The game is designed for two players. Each player will need a marker to move. The pair will also need a coin to flip.
The first player will flip a coin and then move according to the directions on the board. The child will then read the sight word they land on. If they know the word, they can stay on the spot. If they do not know the word, they move back to where they started. Play continues until the first player reaches the finish.
I am providing these games in two formats. The first has a colorful space background. The second set has a white background with colorful planets included.
You can choose which version works best for you! I know color ink can get expensive so the white background should help when you are wanting to conserve ink.
You can download these free sight word games here:
---
Looking for other Fry Word resources? Try these:
Thank you for visiting freewordwork.com! All of the resources provided are free for classroom and home use. Resources may not be sold or modified and sold. Please send me a message if you have any questions.