These 11 parent reading tips will help you as you work on reading with your children at home.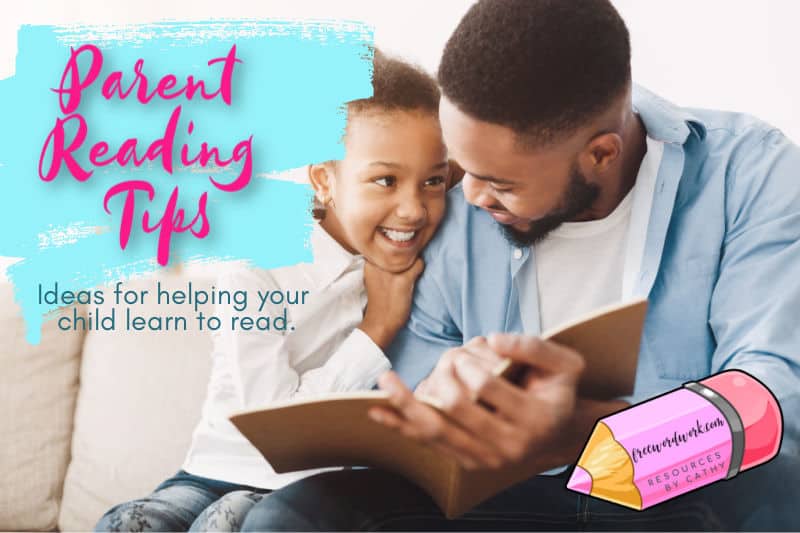 This is a free resource for parents working with their children at home.
I am often asked for parent reading tips. I have created this list of tips to help you as you work to help your children become readers.
In the past parents have asked for extra worksheets or paper and pencil activities to help their young readers. Instead of having your children complete workbooks or worksheets, try the tips I'm sharing below.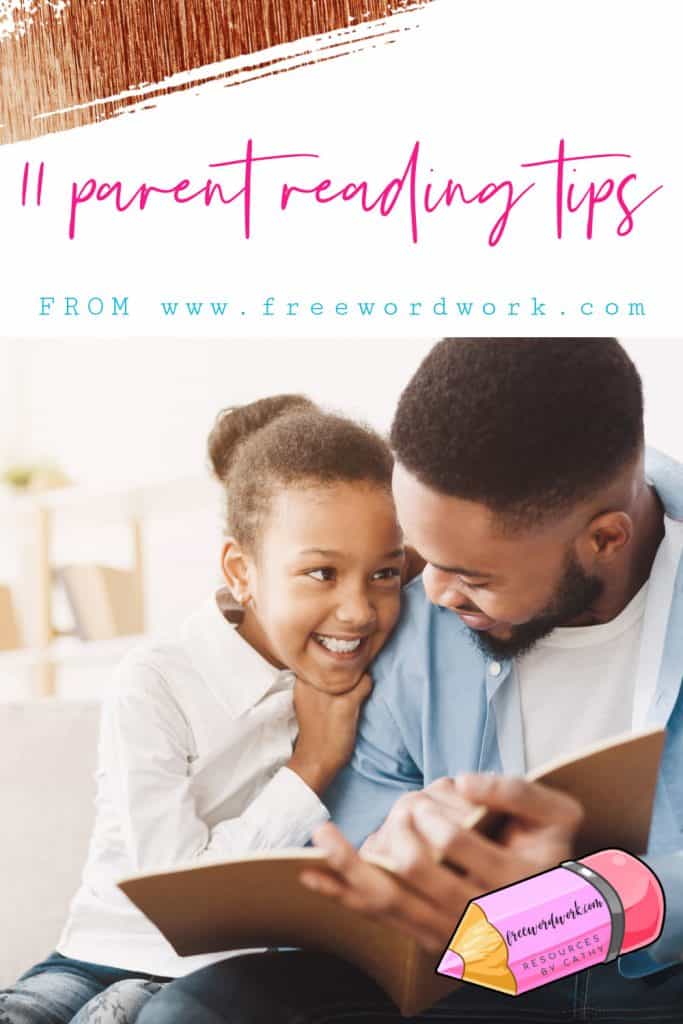 11 Parent Tips for Reading with Your Child
Helping your child become a reader is easy! Parents often worry that they are
not doing the right thing. However, chances are, you are doing everything right!
In case you need a little confidence boost, here are a few tips:
First of all, surround your child with books. Books can by pricey so you might search garage sales, thrift shops or make weekly visits to the local library.
Encourage children to read more than just books. There are words everywhere! Add labels to your home (try these: Labels for the Home.) Leave the cereal box at the breakfast table. Bake together and have your child help read the recipe.
Model! Your children will see reading as an important and enjoyable activity if they see you model for them. Maybe set a time each night when the whole family sits down and reads together.
Encourage your children to use the pictures. This is not cheating, it's what good readers do!
Children learning to read should be encouraged to look at the beginning letters. Not all words can be sounded out but the first letter is a good clue to help children understand what will and will not make sense.
Have your child break the words into parts. They should look for little words they know inside of big words. Teachers will sometimes call this strategy chunky monkey.
Read on. Have children skip the word they are stuck on and read to the end of the sentence. When they finish the sentence, ask them what would make sense.
Give your children vocabulary clues. If they are trying to read a new word, help them make a guess by telling them about the word.
Make sure you are giving your child just right books. Matching a book with your child is important. A child who is reading a book that is much too hard will easily become frustrated and stop trying.
While just right books are important, it is also important that children are interested in what they are reading. If they do not have a connection with the book, they might not have the drive to work on reading in order to understand the text.
And, most importantly….read with your child every day. Reading to your child is just as important as having your child read to you!
Remember, all children learn to read at their own pace. Don't stress if your child is not where you expect. Continue reading together and you will see growth.
If you are looking for a fun way to encourage your child to read, you might like this fun reading log by Ekuwah Moses. Instead of a traditional log, this recording page encourages children to read in fun spots.
Of course, if you are concerned that your child is falling too far behind in reading, simply check with their teacher.
Thanks for checking out www.freewordwork.com! Please make sure to subscribe to my weekly newsletter for updates on the latest tips and free resources I am sharing.