These free, printable words with long O worksheets will give your students practice with words containing the vowel teams oa, oe and ow.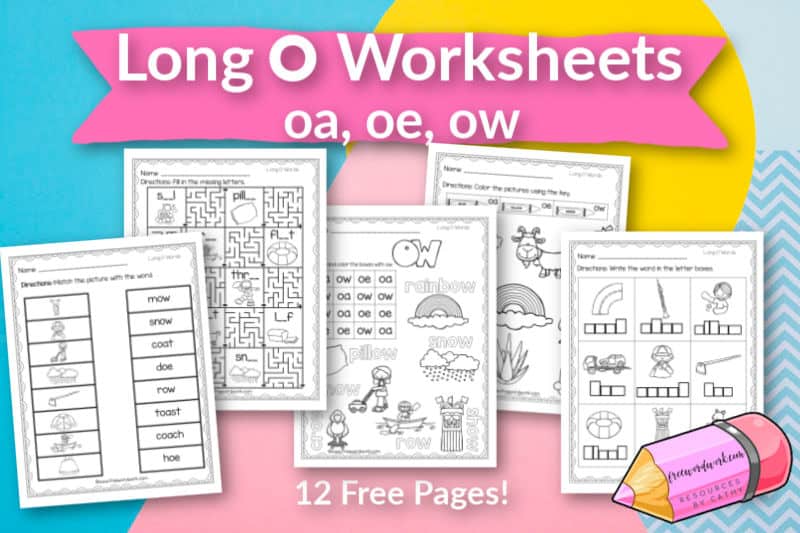 This is another free resource for teachers and homeschool families from www.freewordwork.com.
Download these free, printable words with long O worksheets to your phonics resources for you classroom. These pages include black and white clip art to help students match words with meaning.
Not only will you find pictures, there are also mazes and other puzzles to keep these pages engaging for your child.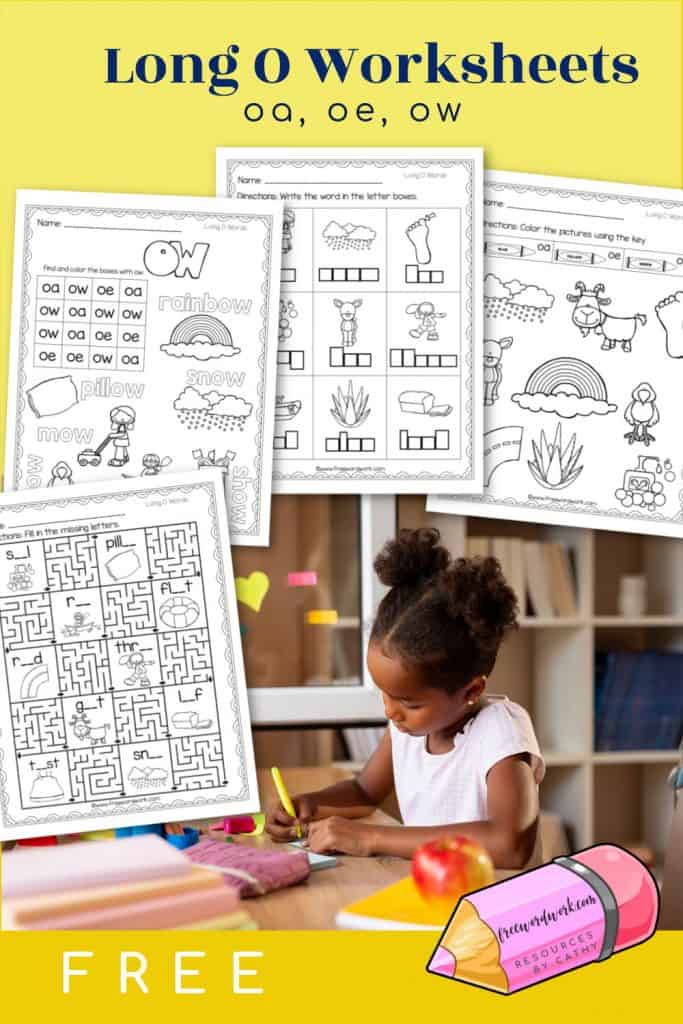 Long O Vowel Team Words
The words on these pages all contain a long o vowel sound.
The letter combinations making the long O sound are oa, oe and ow.
Examples of words found in this set include boat, toe and snow.
Practice with Words Containing Long O Sound
These words with the long O sound can be a challenge because students must determine the vowel combination each word contains. These words will have the vowel teams oa, oe and ow.
To help students get started, make an anchor chart for practicing words with the different letter combinations.
Write oa, oe and ow at the top.
Have students name words with the long a sound as you write each word in the correct column.
Some words to suggest if your children get stuck are trail, mail, sail, paint, braid and brain. Ay words you can use are pay, stay, tray, birthday, sway and play.
About These Long O Sound Worksheets
This set contains 12 printable pages where students will work with words containing the vowel teams oa, oe and ow. Each one will have a long O sound within the word.
Students will complete words and color pictures while identifying the missing letters.
These pages might fit into your second or third grade word work practice.
Children will be ready for these pages after mastering short vowel words, magic e words and words with digraphs and blends.
I wanted to create worksheets that will engage your children in phonics practice. My hope is that these are fun for them! I will continue to work to include different formats that will add a little fun to phonics practice that can sometimes get boring for children. To help you engage your children pages include mazes or other small activities to add a little fun for children.
I hope that the variety of worksheet layouts I create will help you find a way that is most engaging for each child.
You can download this free set of Words with Long O Sounds Worksheets here:
Looking for other phonics practice pages? Try these other free resources I have created:
Thank you to Hidesy's Clip Art and EduClips for the clip art used in creating these resources.
Are you looking for other phonics or sight word resources? Share your ideas with me and I'll add them to my list!
Thank you for visiting freewordwork.com! All of the resources provided are free for classroom and home use. Resources may not be sold or modified and sold. Please send me a message if you have any questions.