This irregular plural nouns list will be helpful in creating resources for your classroom.
You will find an irregular plural nouns list that you can download for your use or for student use.
I hope this is helpful for your students
This is another free resource for teachers and homeschool families from www.freewordwork.com.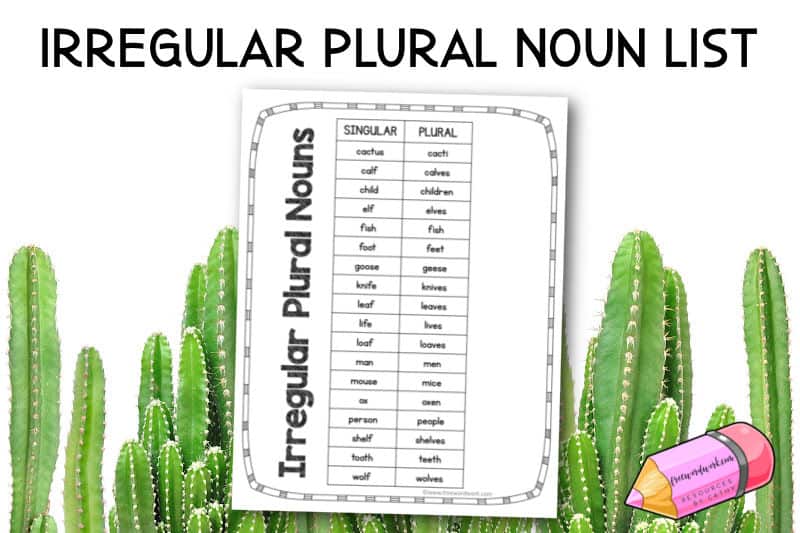 What are irregular plural nouns?
A singular noun tells about one of something. A plural noun is a noun that represents more than one.
Most nouns in the English language follow certain rules.
When you have a singular noun and you are trying to write it as a plural, you often add an s or es. There are steps for you to follow when you are making the change.
Irregular plural nouns are nouns that don't follow the rules!
There aren't really ways to learn how to make these singular nouns plural, students need to memorize the words that fall into this category.
The list I have created contains many common irregular plural nouns. These are the words you will most commonly use in the classroom when talking about this topic.
If there are others your class is discussing, you might create your own anchor chart to display in your room.
Here is a list to help you:
SINGULAR
cactus
calf
child
elf
fish
foot
goose
knife
leaf
life
loaf
man
mouse
ox
person
shelf
tooth
wolf
PLURAL
cacti
calves
children
elves
fish
feet
geese
knives
leaves
lives
loaves
men
mice
oxen
people
shelves
teeth
wolves
You can download a printable version of this chart here:
Thank you for visiting freewordwork.com! All of the resources provided are free for classroom and home use. Resources may not be sold or modified and sold. Please send me a message if you have any questions.