Download this free set of fairy tale Play-Doh mats for your early learning classroom or fun at home.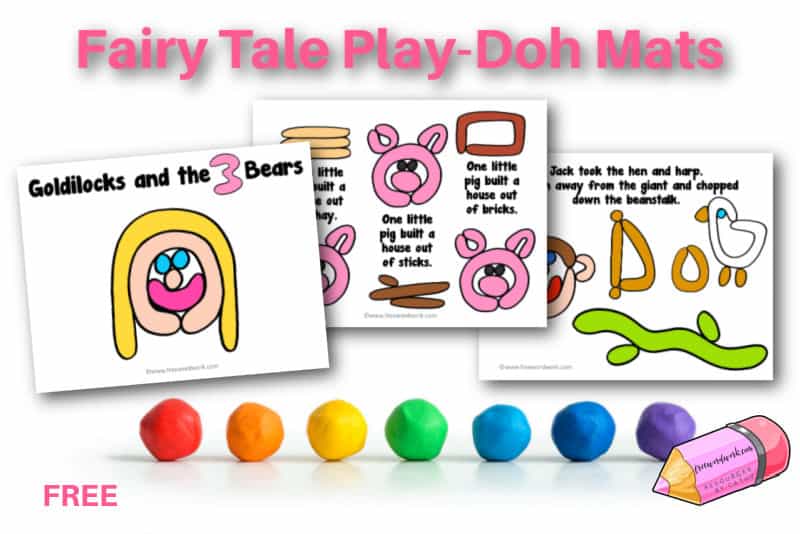 This is another free resource for teachers and families from www.freewordwork.com.
You can download this set of fairy tale Play-Doh mats to be a fun addition to your classroom or learning for your children at home.
Fairy tales are a fun focus for children to explore.
There are many familiar tales and adaptations of the classic versions.
Children will have fun with the familiarity. Plus, the adaptations often have some fun twists and turns.
This resource I have created will add some fine motor practice to your fairy tale study.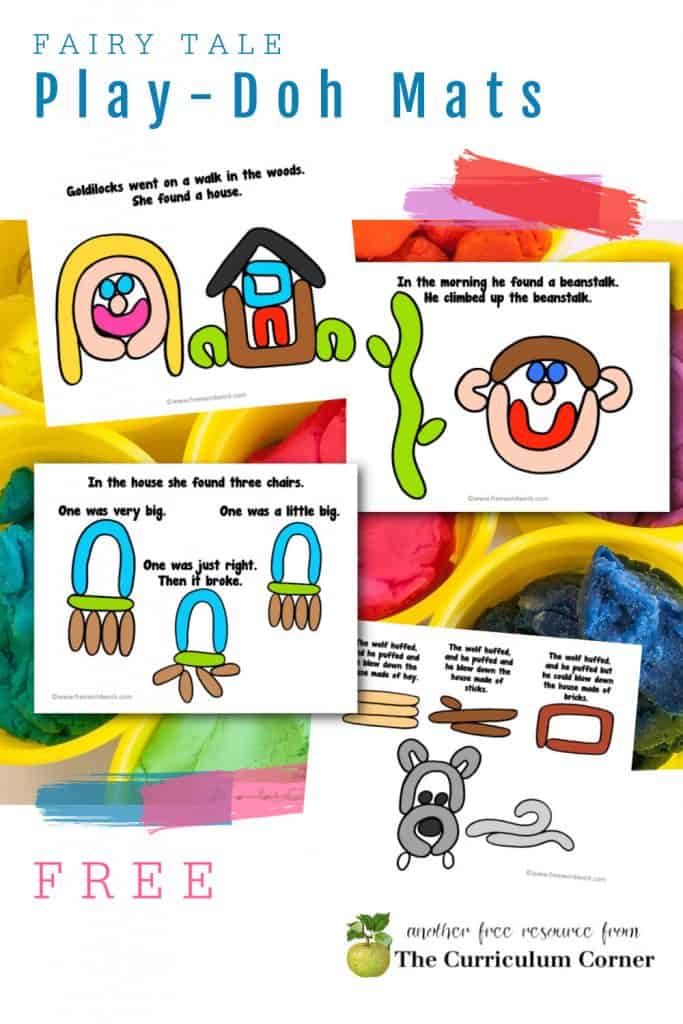 Benefits of using these mats
These mats will help your students work on their fine motor skills. They can roll and pinch and shape the Play-Doh.
Also, these pages can help students work on retelling. The mats are created to share a summary of each fairy tale.
The fairy tales in this collection are The Three Little Pigs, Jack and the Beanstalk and Goldilocks and the Three Bears.
How to use these fairy tale Play-Doh mats
Begin by printing your mats on heavy card stock.
You can choose the in color set or the black and white version.
Next, you will want to laminate the pages. This will help extend the life of your mats. Plus, it will prevent the Play-Doh from sticking to the mats.
After laminating, place the mats and tubs of Play-Doh at your center.
Students can form the story on each page by rolling and shaping the Play-Doh on the spaces.
You might even use your book binder to create a laminated booklet of each story.
You can download this free center set here:
Looking for other fairy tale resources? You might like these other freebies:
Thank you for visiting freewordwork.com! All of the resources provided are free for classroom and home use. Resources may not be sold or modified and sold. Please send me a message if you have any questions.