Use this cave word list to help your students write about their learning.
This cave word list has been compiled as a resource for your students.
This is another free resource for teachers and homeschool families from www.freewordwork.com.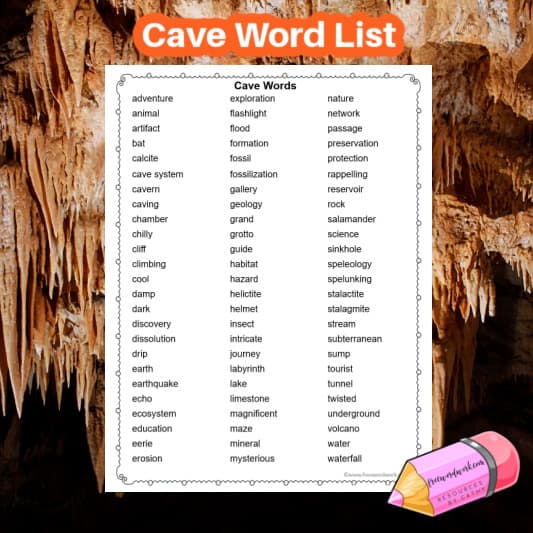 Learning about caves
In my class, our exploration of caves was high interest. Students were completely engaged in the variety of activities we worked on. Even in sixth grade, I found that this topic was new to many.
I did have a few students who had visited caves and could share a little about their past experiences. However, for the most part, this was a new topic.
The word list I created was used as a resource as students were completing their work. It helped with writing activities and was a way for students to check spelling as they worked.
Cave Word List
adventure
animal
artifact
bat
calcite
cave system
cavern
caving
chamber
chilly
cliff
climbing
cool
damp
dark
discovery
dissolution
drip
earth
earthquake
echo
ecosystem
education
eerie
erosion
exploration
flashlight
flood
formation
fossil
fossilization
gallery
geology
grand
grotto
guide
habitat
hazard
helictite
helmet
insect
intricate
journey
labyrinth
lake
limestone
magnificent
maze
mineral
mysterious
nature
network
passage
preservation
protection
rappelling
reservoir
rock
salamander
science
sinkhole
speleology
spelunking
stalactite
stalagmite
stream
subterranean
sump
tourist
tunnel
twisted
underground
volcano
water
waterfall
You can download this free word list by clicking on the blue pencil below:

Thank you for visiting freewordwork.com! All of the resources provided are free for classroom and home use. Resources may not be sold or modified and sold. Please send me a message if you have any questions.