Use this cave syllable sort to practice vocabulary along with word work skills.
Create this cave syllable sort to help students practice sorting cave focused words by syllable.
This is another free resource for teachers and homeschool families from www.freewordwork.com.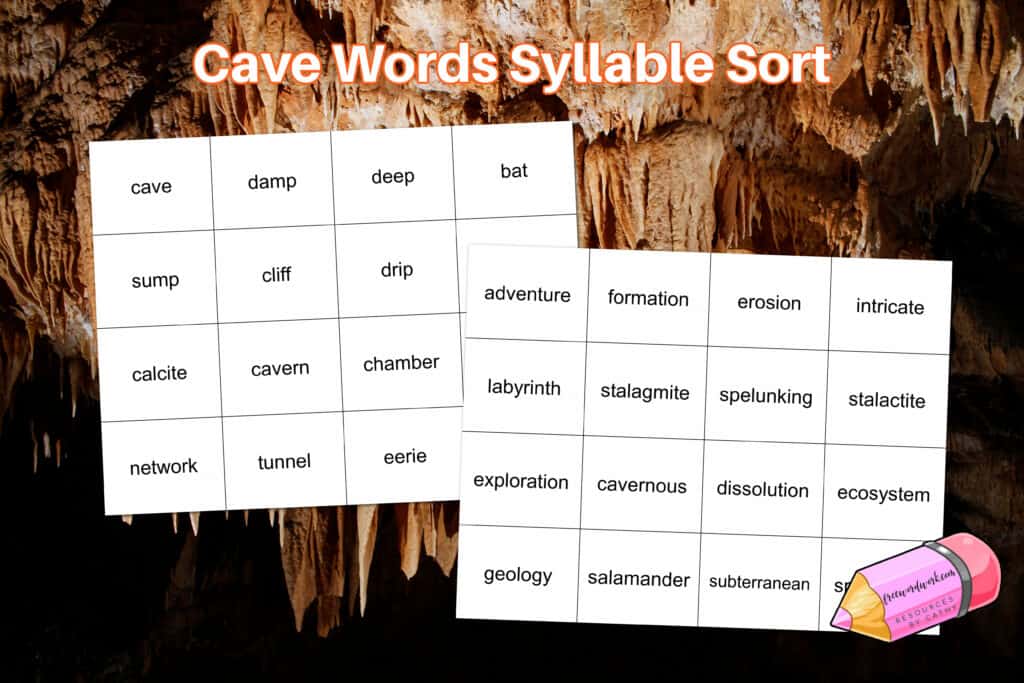 How does counting syllables help students become better readers?
Phonemic Awareness: Counting syllables requires students to break down words into smaller parts, which helps develop their phonemic awareness. Phonemic awareness is the ability to recognize and manipulate individual sounds in words, which is a critical skill for reading and spelling.
Decoding: Counting syllables can help students decode unfamiliar words. When students encounter a new word, they can break it down into syllables to figure out how to pronounce it. This can help them read more fluently and with greater accuracy.
Vocabulary: Counting syllables can help students build their vocabulary. By breaking down words into syllables, students can learn to recognize and remember unfamiliar words more easily. This can help them develop a stronger vocabulary, which is important for reading comprehension.
Cave Syllable Sort
I printed my cards on colored card stock and then laminated before cutting.
Students were given the cards and needed to sort them according to the number of syllables. Some words did require an explanation so that students could read and understand the meaning behind each word.
When they finished, I had students record the words in their word work notebook.
This activity includes the following cave focused words:
1 syllable words
cave
damp
deep
bat
sump
cliff
drip
maze
2 syllable words
calcite
cavern
chamber
journey
network
tunnel
eerie
climbing
3 syllable words
adventure
formation
erosion
intricate
labyrinth
stalagmite
spelunking
stalactite
cavernous
4 syllable words
exploration
dissolution
ecosystem
geology
salamander
subterranean
speleology
You can download this free activity by clicking on the blue pencil below:

Thank you for visiting freewordwork.com! All of the resources provided are free for classroom and home use. Resources may not be sold or modified and sold. Please send me a message if you have any questions.