This download contains intermediate words of the week booklets for students working on expanding their vocabulary.
These intermediate words of the week booklets are designed to build vocabulary practice into your classroom.
This is another free resource for teachers and homeschool families.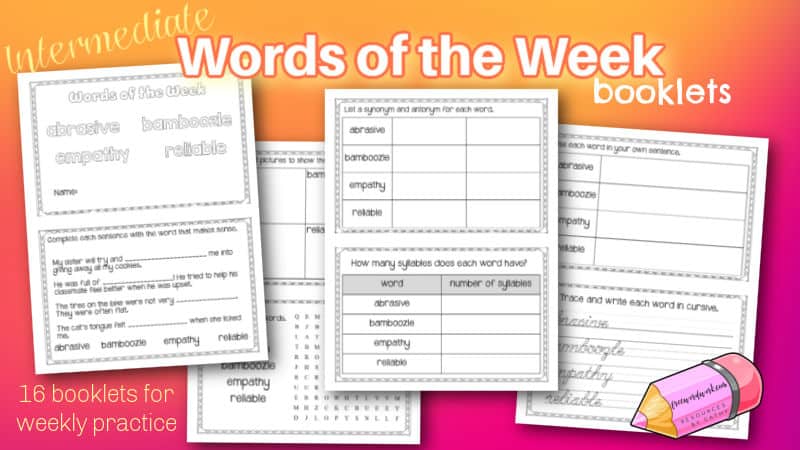 About these booklets
These booklets include the following activities:
Sentence fill-ins
Use words and pictures to define each word
Find the hidden words (This one is just for fun! I had a group of students who loved wordsearches as a break this year – there is no academic value to this one so allow students to skip it if they desire!)
List a synonym and antonym for each word
Identify the number of syllables
Use each word in a sentence
Trace and write each word in cursive
There are a total of 16 booklets. Each of the booklets contains 4 words.
The following words are included:
abrasive
bamboozle
empathy
reliable
abruptly
boisterous
glimpse
receive
abundance
appease
erroneous
peculiar
acquaintance
anecdote
copious
imperative
adjacent
desolate
frugal
livid
allege
famished
illusion
proceed
advocate
feasible
legible
spacious
aggravate
candor
gullible
omitted
authentic
catastrophe
flammable
punctual
adversary
feign
ingenious
query
audacious
fiasco
jeopardize
surplus
anthology
horizontal
implausible
turmoil
ludicrous
recuperate
resilient
vertical
aloof
petulant
unanimous
zeal
amicable
verbatim
facade
marsupial
belligerent
insinuate
paramount
reminisce
You can download these booklets by clicking on the blue pencil below:

Thank you for visiting freewordwork.com! All of the resources provided are free for classroom and home use. Resources may not be sold or modified and sold. Please send me a message if you have any questions.