These Beginning Digraphs Fluency Sentences are designed to help your beginning readers begin to work on developing their fluency skills while practicing words beginning with digraphs.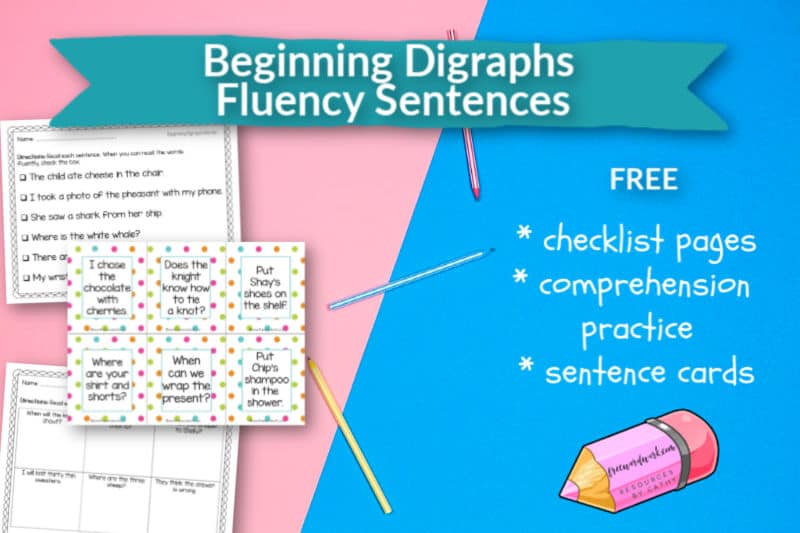 This is another free resource for teachers and homeschool families from www.freewordwork.com.
Download these free Beginning Digraphs fluency sentences to help your students begin to work on improving their fluency while working on words beginning with blends.
What is Reading Fluency?
Reading fluency is when we read smoothly. We are reading without breaks and attempting to read like we speak.
Students who are reading fluently are reading accurately and with expression.
The hope is that children reading smoothly also helps with comprehension.
Working on fluency with familiar words can help children build their confidence while reading. They will be able to see what fluency sounds like and have a goal that they can visualize.
I have three previous fluency sets found here: CVC Fluency Sentences, CVCe Fluency Sentences, Beginning Blends Fluency Sentences.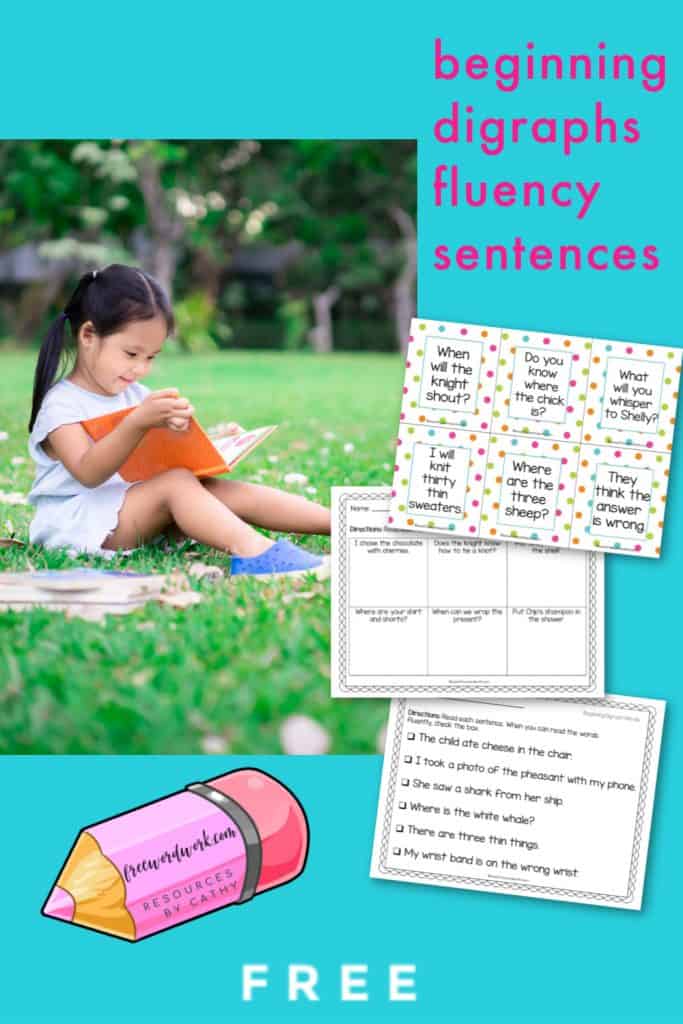 What are Digraphs?
Unsure of what digraphs are? Start here! (If you already know, skip to the end for your free download.)
If you do not know, beginning digraph words start with two letters that make a new sound. The words in these pages start with ch, sh, kn, ph, th, wh or wr.
These Beginning Digraph Fluency Sentence Resources
This collection of resources contains three different activities.
First, you will find checklists that each contain six sentences. There is an emphasis on words beginning with digraphs. Other common words have been included to help create the sentences.
These sentences are slightly more challenging than the set of CVC and CVCe sentences.
Students can read each sentence. They will check the box once they are able to read fluently.
There are pages for students to show they are able to comprehend what they read. Students can read each sentence and then draw a picture to show the meaning of each.
Finally, you will find fluency cards. These are provided with a colorful background and in black and white. You can print and cut apart the cards. In addition, you can choose to laminate for durability.
You can hole punch and place the cards on a ring. Students can flip through the cards to practice each of the 30 sentences.
You can download this free collection of Beginning Digraphs Fluency Sentences here:
Looking for additional beginning digraphs work? Try these free resources:
Thank you for visiting freewordwork.com! All of the resources provided are free for classroom and home use. Resources may not be sold or modified and sold. Please send me a message if you have any questions.