Add these spring long vowel games to your literacy centers for an engaging way to practice sounds.
You can download these free games for students to use when practicing sounds.
This is another free resource for teachers and homeschool families from www.freewordwork.com.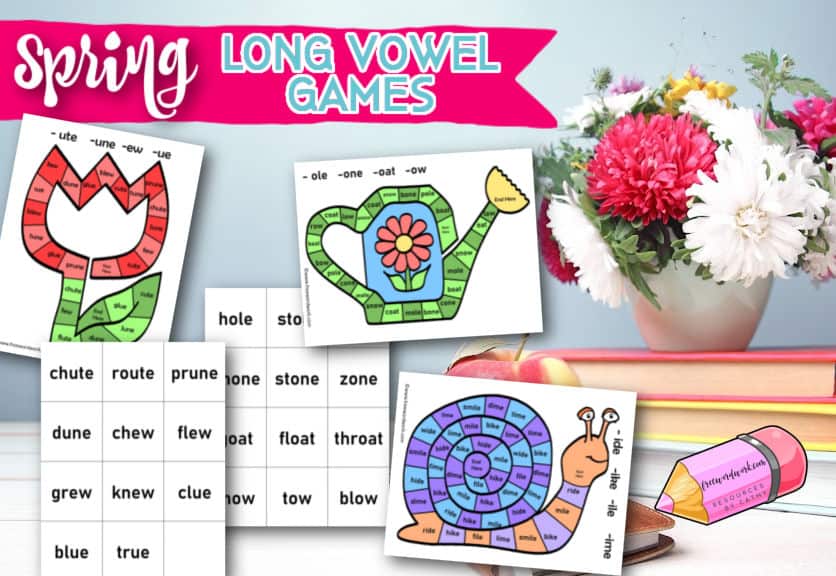 Games for literacy centers
These spring themed games will be a fun addition to your literacy centers.
Games are a great way to practice phonics in the classroom. Children get excited about an engaging way of practicing. Plus, students are also given the opportunity to work on cooperative skills.
Within this collection you will find five game boards. Each game board is provided in color and black and white. These boards have white backgrounds so you can save a little color ink.
With each game, you will find a set of cards. You can print these on colorful card stock – this makes it easier to use the cards without the kids being able to see through the back.
There are five boards – one for each long vowel sound.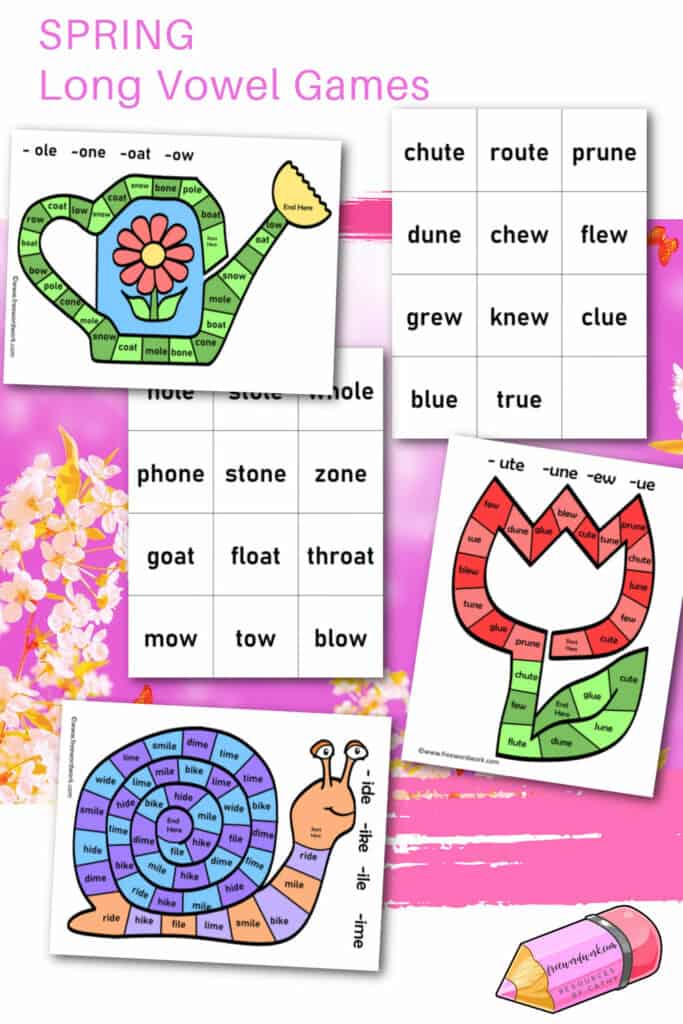 Word Families
The word families you will see are:
long a words: -ake, -ain, -ate
long e words: -eat, -ear, -eal, -eep
long i words: -ide, -ike, -ile, -ime
long o words: -ole, -one, -oat, -ow
long u words: -ute, -une, -ew, -ue
Making your spring long vowel games
Print the file on card stock. You can use plain white or colorful pages. The word cards work best when printing on a dark color.
Cut apart the word cards.
Pair each board with the matching cards. Students will need markers such as buttons to play.
Pair each board with the matching cards. Students will need game markers to play.
You might choose to glue the board on the inside of a file folder. You can then add a pocket and put the cards inside.
This will make storing and keeping the pieces together easier.
Playing these spring
Have students begin with a marker at the beginning at the game.
Have students shuffle the cards and place them face down.
The first player draws a card and then moves their marker to the first rhyming word.
Play can continue around the board until the first player gets to the end.
You can download these free phonics games below:
Thank you for visiting freewordwork.com! All of the resources provided are free for classroom and home use. Resources may not be sold or modified and sold. Please send me a message if you have any questions.