Use these spooky scrambled sentences to add a little spookiness to your reading centers.
Spooky scrambled sentences can be a fun way for students to practice forming more complex sentences.
These are another free resource for teachers and homeschool families from www.freewordwork.com.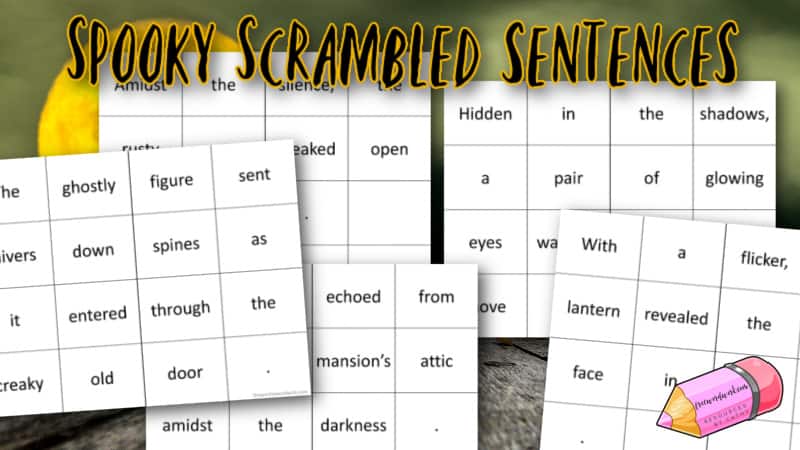 Using this reading center
I like to print each sentence on a different color of cardstock. I then laminate the pages and cut apart the words. This makes for easy sorting!
Students choose a sentence. They then work to put all of the words in a sentence that makes sense.
You can have them check with a friend or take a picture for you to check later.
I do find that some sentences require working with the students. These definitely provide a challenge for all reading abilities! Often students will work in pairs or small groups.
Spooky scrambled sentences
You will find the following sentences for students to unscramble:
The ghostly figure sent shivers down spines as it entered through the creaky old door.
A shadowy figure slowly emerged from the mist in the eerie moonlight.
Mysterious whispers echoed from the haunted mansion's attic amidst the darkness.
Through the fog, the ancient cemetery revealed forgotten tombstones and secrets.
Beneath the full moon, the graveyard seemed alive with ghostly apparitions.
The haunted forest concealed its chilling secrets.
With a flicker, the lantern revealed the ghostly face in the mirror.
Hidden in the shadows, a pair of glowing eyes watched their every move.
Amidst the silence the rusty gate creaked open by itself.
You can download this free center by clicking on the blue pencil below:

Thank you for visiting freewordwork.com! All of the resources provided are free for classroom and home use. Resources may not be sold or modified and sold. Please send me a message if you have any questions.