These Greek gods scrambled sentences are a fun way for students to practice sentence structure.
You can download this set of Greek gods scrambled sentences to create an easy to assemble center.
This is another free resource for teachers and homeschool families from www.freewordwork.com.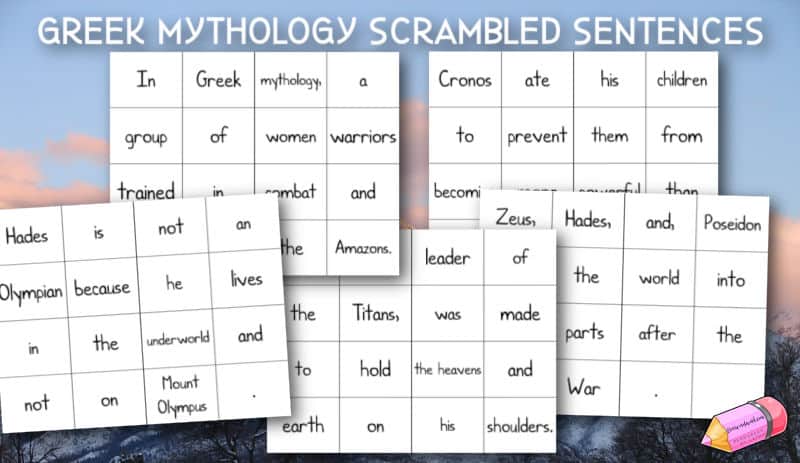 Greek Mythology
I created these for my students to work on as we study Greek mythology.
My sixth graders love puzzles and these scrambled sentences fit into that category for them.
They have been begging for me to make a new set, so I created these. We've been studying Greek mythology and my students have been very into the stories. The fit of a topic they love with their favorite activity will be a perfect way to engage them.
Creating your Greek gods scrambled sentences
To create your center, I suggest printing each page on its own color of cardstock.
I then laminate them for durability and cut the sentences apart.
Each sentence being on its own color makes sorting easy.
Sometimes my students work on the sentences with a partner and other times I challenge them to do the work independently.
I try and just stop by and check the sentences instead of having them write down the sentence.
You will find that some sentences are more challenging than others. This makes it easy for me to differentiate when students are working independently.
You can download this free resource by clicking on the blue pencil below:

Thank you for visiting freewordwork.com! All of the resources provided are free for classroom and home use. Resources may not be sold or modified and sold. Please send me a message if you have any questions.