Add this fall write the room to your classroom literacy centers that involve movement.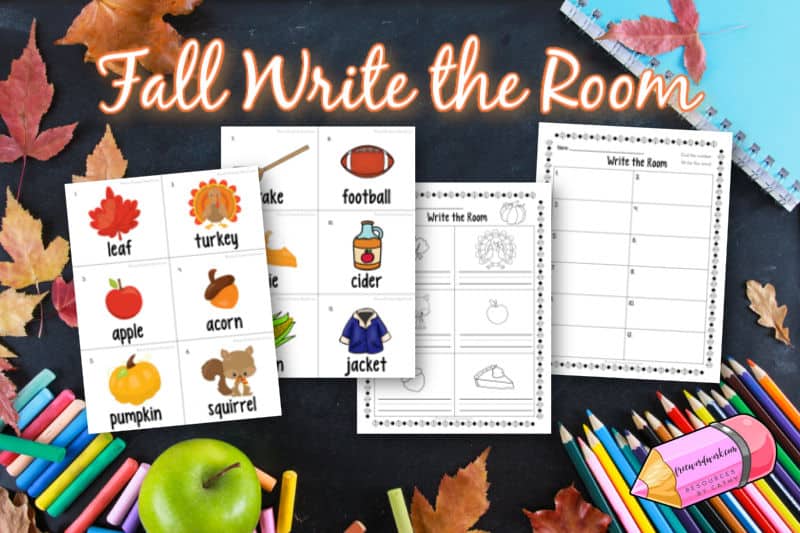 This is another free resource for teachers and families from www.freewordwork.com.
Download this fall write the room activity to add to your classroom this fall. This is also a great activity for families looking to weave literacy in to a hide and seek type game.
This will be a great opportunity to weave movement into your literacy centers.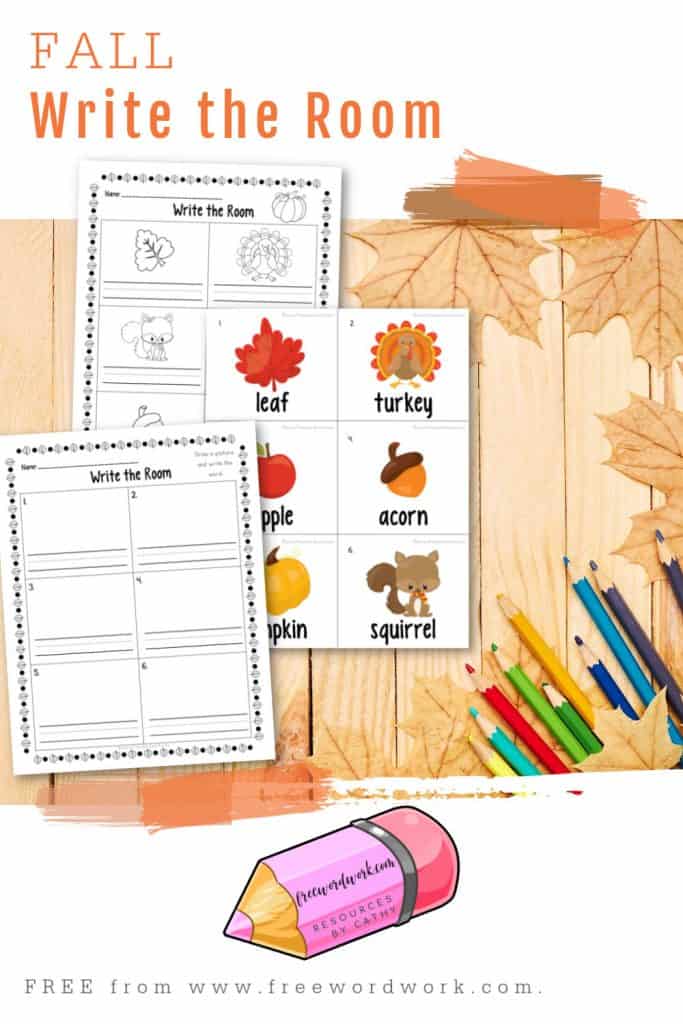 How to Set Up this Fall Write the Room
Begin by choosing the word cards that will work for your students. Be sure to print on heavy cardstock and laminate for durability if you want to use them year after year.
I am sharing cards with just words along with cards that have words along with pictures.
Print and post the cards that meet the needs of your students.
After cutting them apart, you will tape the cards around your classroom (or home if you are a parent.)
While you don't want to completely hide the cards, it can be fun to make some a little more challenging to find.
Copy the recording pages that fit your students. You might offer multiple versions. Some are one sided and others will need to be copied front to back.
Children might hunt for the word in the classroom or record a word and then write a complete sentence using the word.
Completing this Fall Write the Room Activity
Children will receive a recording page (or choose the one that fits them best.) It is helpful to have a clipboard to complete the activity.
Children go on a hunt around the classroom. They will record the words on their paper.
The cards are numbered so when needed, they can match the numbers to find the correct word for each spot.
You can download this literacy center here:
Looking for other fall activities to help your readers and writers? Try these:
Thank you for visiting freewordwork.com! All of the resources provided are free for classroom and home use. Resources may not be sold or modified and sold. Please send me a message if you have any questions.