This elf welcome letter is completely editable so you can reword the note to fit your family and child.
You will be able to download a Word version of the elf welcome letter I created for my house.
This is another freebie for families from www.freewordwork.com.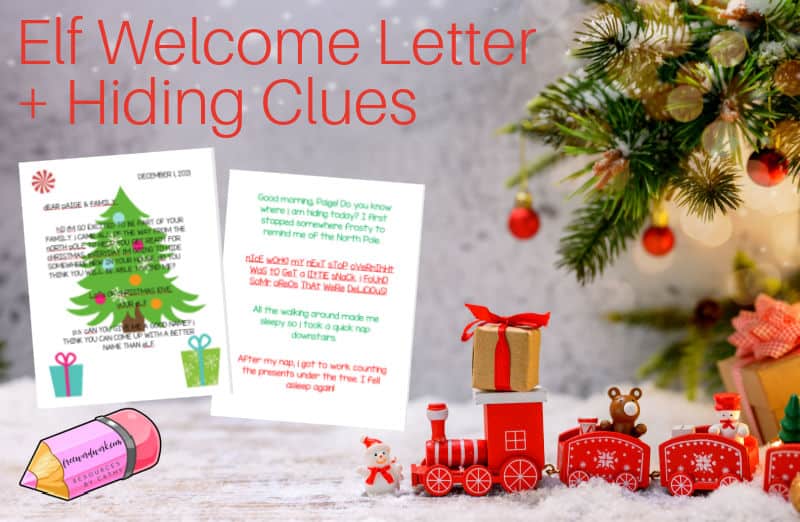 Giving in to my daughter!
After years of avoiding an elf, I finally have given in this year.
She has asked repeatedly why we don't have an elf. Honestly, I have been avoiding the extra work during December. I didn't want to have to start a tradition that I would want to abandon after a year.
So, I decided that this year would be perfect. She is in second grade so I might only have a year or two left.
I have no plans of being super strict with this elf. The elf is not here to watch over her and make sure she is behaving – she is simply here for a little fun in December.
Also, I am sharing this purely for families. This isn't something I would do in my classroom. First of all, the Christmas thing makes it lack inclusivity for all students. I've also heard of many cases where children have gotten angry at a classmate who has touched the elf or made a bad choice. This will be something fun for our family but not something I would incorporate into my classroom.
The Elf Welcome Letter
Last night I decided I should write a quick letter from the elf. I know many families have an elf that has already arrived so sharing this today is a little late. Sorry about that! I decided to go ahead and share just in case someone was still in need.
In my letter I mentioned nothing about touching the elf or any types of consequences. This is what works for our family.
I've also included a second page that contains four clues I will use one day for a little scavenger hunt.
These clues are also editable so you can make them fit your family.
If I make any other printables for our elf this year, I'll be sure to come back and add them to this file.
You will need to download the following font: KG Miss Kindergarten. I have a commercial use license for this font but you will be able to download a free version for personal use.
You can download this Word document here:
Thank you for visiting freewordwork.com! All of the resources provided are free for classroom and home use. Resources may not be sold or modified and sold. Please send me a message if you have any questions.