Use these scrambled ancient Greece sentences to give your students a fun puzzle while learning about Greece.
These ancient Greece scrambled sentences are an engaging way for students to learn about social studies.
This is another free resource for teachers and homeschool families from www.freewordwork.com.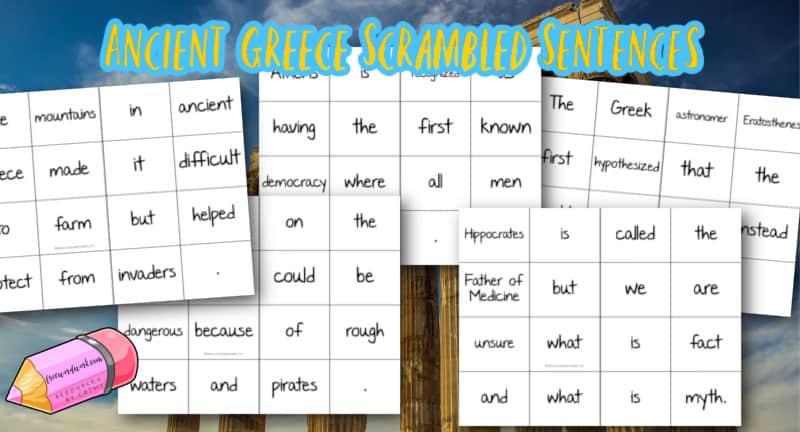 Learning about Ancient Greece
In my class, we have been learning about Ancient Greece.
We have a big project in the works but at the moment we are trying to build up our knowledge base.
One thing I created to help students with this are these scrambled sentences.
My students love scrambled sentences. I first made a set for an intervention group and found that all were begging to try.
So, I've taken this activity and am working on taking advantage of the interest.
These sentences share ten different facts about Greece that will help students learn facts as they work on sentence structure.
These Ancient Greece scrambled sentences
This set contains ten different sentences.
To create mine, I printed each on a different color of card stock. This makes for easy sorting!
Next, I laminated the pages and cut them apart.
During reading work time, students chose sentences and worked with a partner to unscramble them.
Some students can complete this work without any guidance, other students need a clue or two to get started.
I always give them a little time on their own before I give any clues.
I love these sentences because students find the activity engaging. It also gives children an opportunity to work on sentence structure.
Clues sometimes include something like me saying that the sentence is a compound sentence. Or, the sentence tells you a fact and then says however.
You can download these free sentences by clicking on the blue pencil below:

Thank you for visiting freewordwork.com! All of the resources provided are free for classroom and home use. Resources may not be sold or modified and sold. Please send me a message if you have any questions.