S Blend Boom Cards are a digital task card resource for phonics practice.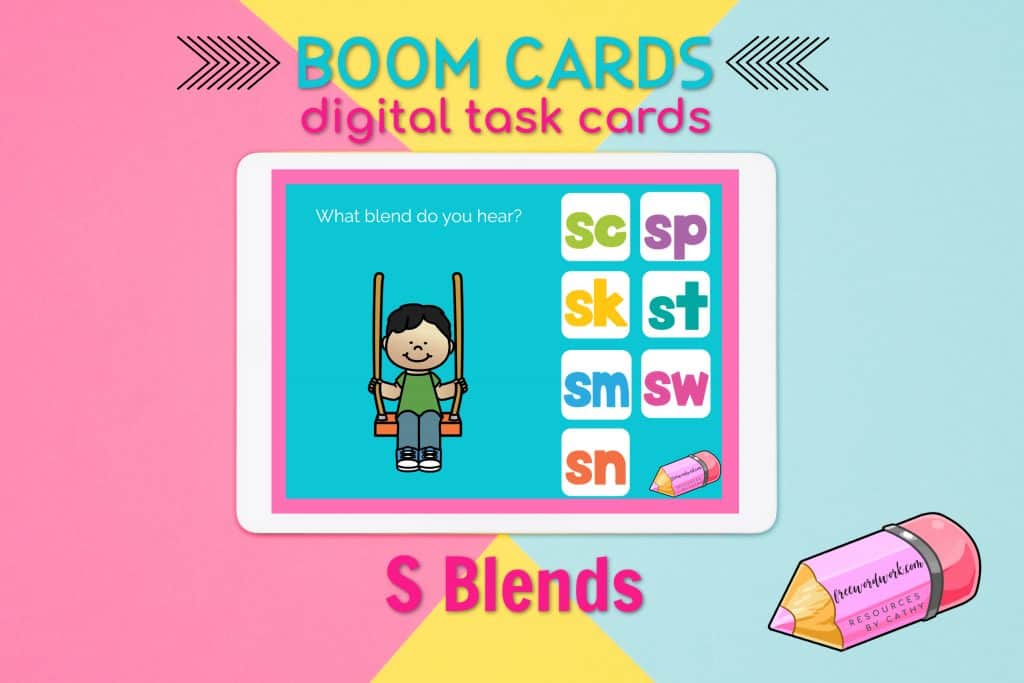 This is another free resource for teachers and families from www.freewordwork.com.
These S Blend Boom Cards will give your students practice identifying the s blend they hear at the beginning of each word. Students will receive practice with the blends sc, sk, sm, sn, sp, st and sw.
Add these to your phonics literacy centers or share with parents for distance learning.
What are Boom Cards?
You can access this free digital task card set on Boom Learning.
New to Boom Cards? You will definitely want to check them out!
They are digital task cards that are self checking. These cards are engaging for students but also provide data for teachers.
There are both free and paid resources on Boom Learning. All of the Boom Cards I share on www.freewordwork.com are free. You will need to set up an account at Boom Learning to get started.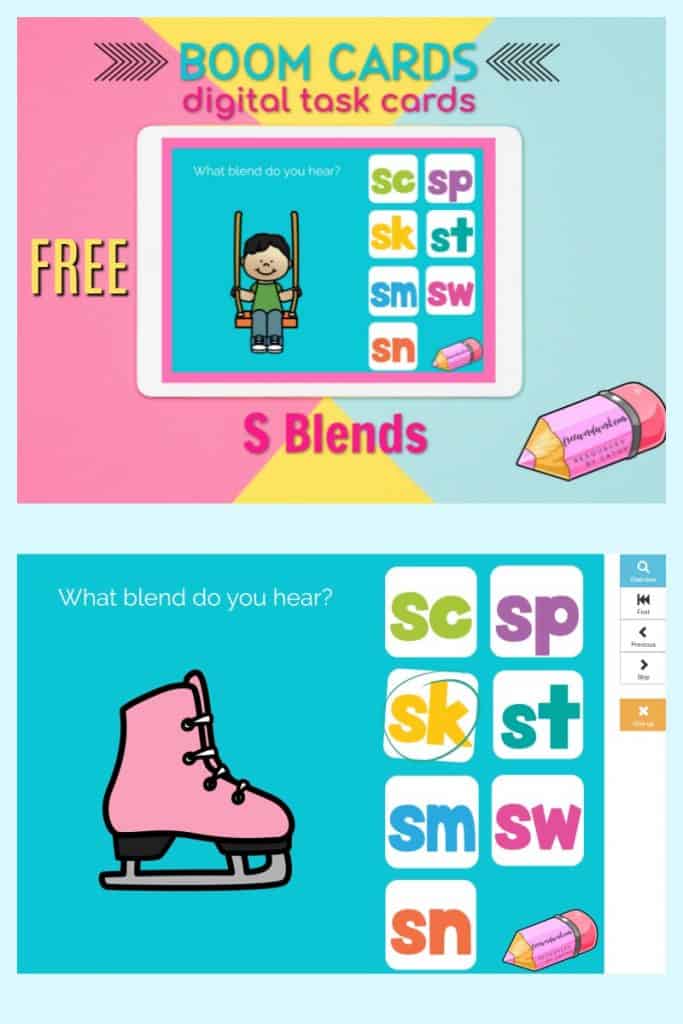 S Blend Boom Cards
This deck contains 28 cards. There are four cards for each blend included in the practice.
Each card has the seven blends found on the right. There is a picture of an s blend word on the left.
Students are working to identify the sound they hear at the beginning of each word.
To play, students will click on the sound they hear at the beginning of the word.
When students click the incorrect answer, they will hear a noise indicating they chose the wrong answer. A red circle with a mark through will appear around the word.
Students will get to try until they answer correctly.
A correct answer will give children a correct answer sound plus a green circle will appear around the letter.
The correct answer rotates to the student to the next card.
Each time a child plays the game, they will be given a random assortment of 20 cards.
Visit Boom Learning to play this S Blends Boom Cards game:
Look for more Boom Cards to be added! Take a look at this L Blends Game and this R Blends Game.
---
Thank you to Whimsy Clips for the clip art!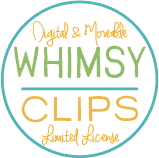 Thank you for visiting freewordwork.com! All of the resources provided are free for classroom and home use. Resources may not be sold or modified and sold. Please send me a message if you have any questions.