These Third Fry Word Worksheets provide writing and reading practice for words 201 through 300.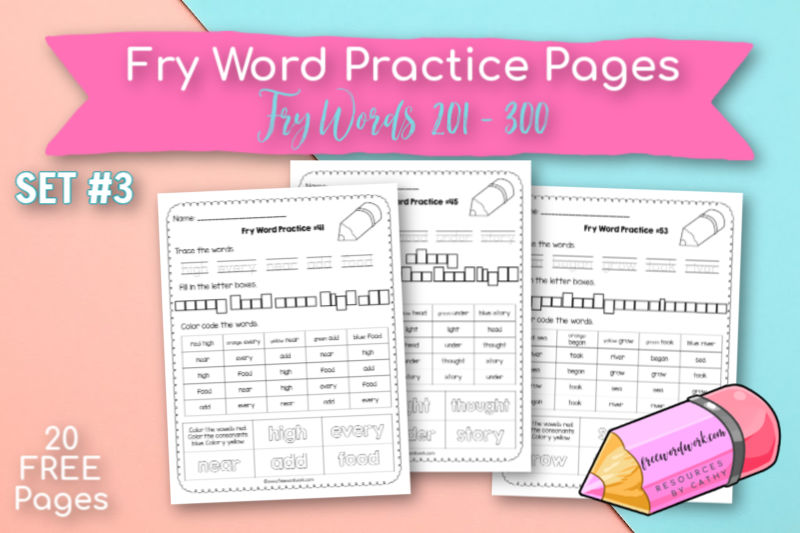 This is another free resource for teachers and families from www.freewordwork.com.
These Third Fry Word Worksheets will give children practice with the third 100 Fry Sight Words. This set focuses on words 201 – 300 on the Fry Word list.
Sight Word Instruction
If you are new to sight word instruction in your classroom, you might want to begin by learning a little more in our Introduction to Sight Words.
As you are beginning your Fry Word program in your classroom, you might have questions that can be answered in our Introduction to Fry Words.
If you are here to find Fry Word resources that your students will love, you've found the right spot!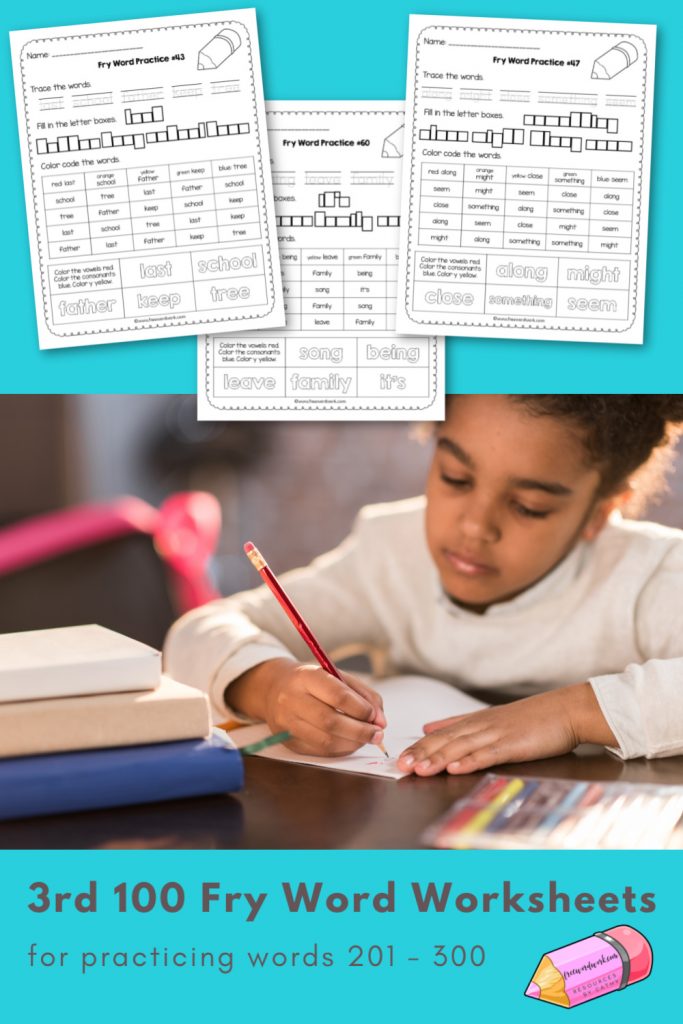 About These Fry Word Worksheets
These worksheets are perfect for students who are working on mastering their sight words.
These pages will give students some time practicing fine motor skills along with identifying sight words.
Included on these pages you will find word tracing, word boxes, find a word and color by letter activities.
There are a total of 20 pages with 5 words on each page. The repetitive nature will allow for students to work independently once they are familiar with the format.
This set of pages contains all of the words in the third 100 set of Fry Words. Many teachers and parents focus on these words for children entering or in third grade. Of course, you might have second graders who are ready to work on this list as well.
Using these Fry Word Practice Pages
Students will need crayons or colored pencils along with a regular pencil.
In the color code boxes, instruct students to color each box according to the code at the top.
At the bottom, students will color code the letters by vowel and consonant. A separate color for y is also included.
You can download this free set of Third Fry Word Practice Pages here:
Find my other two sets here:
You might also like our Fry Pages 1 for the first 100 words.
Please let me know if there are other items you are looking for!
Be sure to sign up for theweekly newsletter where you can be sure to stay up to date with all of the most recent free resources. You will find the link below.
---
Thank you for visiting freewordwork.com! All of the resources provided are free for classroom and home use. Resources may not be sold or modified and sold. Please send me a message if you have any questions.