Download this free Christmas activity booklet to help entertain your children over the holidays.
I created this Christmas activity booklet for children to use during my daughter's Christmas dance recital.
You will find a variety of pages to help keep your children entertained. Because of the Christmas theme, this is designed for home and not classroom use.
This is another free resource from www.freewordwork.com.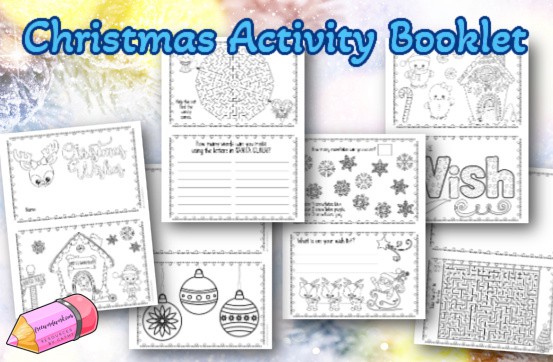 About this Christmas activity booklet
My daughter has her Christmas dance recital next weekend. She will have two dress rehearsals and two recitals – with lots of wait time in between her dances!
I wanted to put together a small booklet she can put in her backpack for those down times. I plan on adding some twistable colored pencils – definitely not markers that could stain the costumes!
I'm also going to add a few extras to her bag so she can share. After I made the one filled with mazes, coloring pages and other word games, she requested a booklet of just blank pages for drawing. I'll include the download for that one as well.
This booklet has a variety of activities to help entertain your children.
Creating your booklets
This booklet is designed to be printed front to back. You will need a total of 6 pages for printing.
Once you have printed your booklet, cut the pages in half. I like to use my paper cutter to get straight lines but obviously scissors would work as well.
Stack the bottom half behind the front half and staple. I use two or three staples on the left side.
You can download your free booklet by clicking on the blue pencil below:

You can download the booklet with blank pages for drawing here: Christmas Drawing Booklet.
Need an option that includes explanations of each word? This list contains the meaning along with clues to help your students remember.