These free, printable beginning trigraph worksheets will give your students practice with words beginning with the trigraphs scr, shr, spl, spr, squ, str and thr.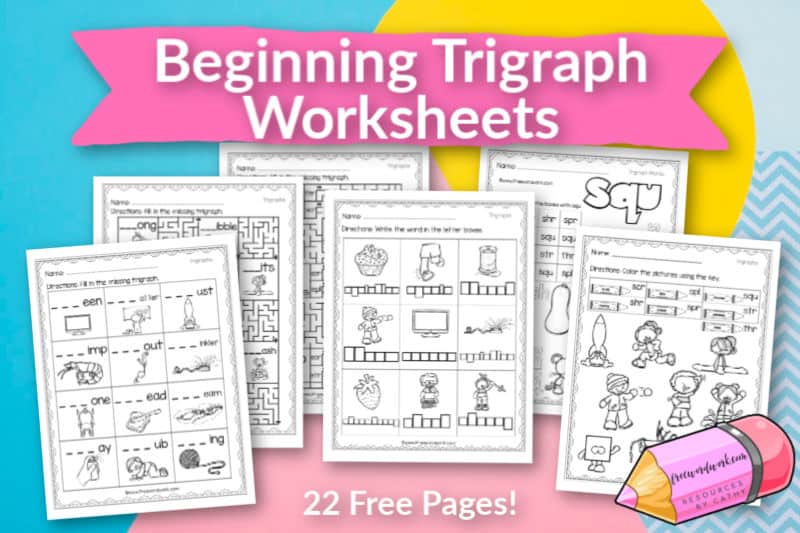 This is another free resource for teachers and homeschool families from www.freewordwork.com.
Add these free, printable beginning trigraph worksheets to your phonics resources for you classroom. These pages include pictures to help students match words with meaning.
If you are looking to help your own child and new to phonics instruction, these pages will come after students know individual consonant and vowel sounds. They should be familiar with digraphs and blends.
Trigraphs are three letters that work together to form a single sound. The letters these worksheets focus on will come at the beginning of words.
Practice with Beginning Trigraph Words
Looking for a way to practice these trigraph words before using paper and pencil?
Make a list of trigraphs found at the beginning of words. Students can then work in teams to brainstorm words that belong in each category.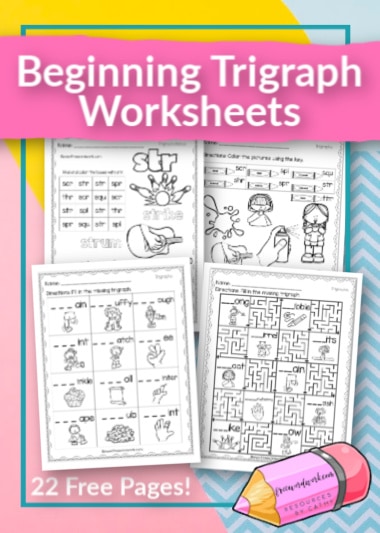 About These Beginning Trigraph Worksheets
This set contains 22 printable pages where students will work with words beginning with trigraphs. Students will complete words and color pictures while identifying the missing trigraphs.
These pages might fit into your first grade or second grade word work practice.
You will find a range of Consonant Digraph Worksheets for phonics practice. These pages contain the trigraphs scr, shr, spl, spr, squ, str and thr.
These pages will not be your first step in reading. These should come after students have worked with sounding out single consonants and digraphs.
I have included mazes and other fun activities for students. I hope these pages offer an engaging way to practice phonics skills!
The engagement piece can be especially helpful during a time of distance learning! Parents will appreciate the little extra these pages provide.
You can download this free set of Beginning Trigraph Worksheets here:
Looking for other phonics practice pages? Try these: Beginning Digraph Worksheets.
Thank you to Hidesy's Clip Art, EduClips and Kinka Art for the clip art used in creating these resources.
I will continue to add new free resources for teachers to this site. If you have any specific requests, please let me know!
Thank you for visiting freewordwork.com! All of the resources provided are free for classroom and home use. Resources may not be sold or modified and sold. Please send me a message if you have any questions.